The Cricut Maker has made wood engraving incredibly simple. Taking a wood engraving idea from initial concept to finished project, has never been easier.
And this is all thanks to Cricut Design Space. This beginner-friendly graphic design program lets you make your own layered designs from Cricuts range of free images and fonts.
But, is Design Space the only application that works with your Cricut Maker? And is a Cricut Access subscription needed in order to use your machine?
Well, in this post, you will learn what the key difference is between Cricut Design Space and Cricut Access (hint: they are not one and the same).
You will also discover which two free alternative programs are the best graphic design programs around.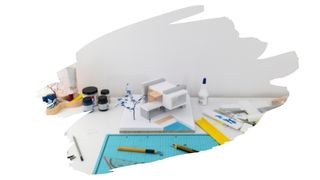 This post may contain affiliate links to products that we receive a commission for (at no additional cost to you). Learn more here.
Can You Use The Cricut Without Design Space?
Well, if you want to use your Cricut, Design Space is the only application that can communicate directly with your machine. Basically it is a key programming component in using any Cricut Maker.
However, Design Space is free, and there is no cost involved in using this application. The only thing that costs money is Cricut Access, which is a completely separate (and wholly optional) subscription service.
Related Post: What Type Of Wood Can A Cricut Maker Cut? [A Quick Guide]
What Is The Difference Between Cricut Access Vs Cricut Design Space?
The big difference is that one is a pre-made designs subscription service. And the other is a software application that allows you to create and upload unique designs.
A Cricut Access subscription is not required in order to operate the Cricut machine. And, you don't need this subscription in order to design projects.
Now, the free Cricut Design Space software will upload your designs. And it is a good beginner-level graphic design application. However, while you can use Design Space to create your cutting patterns, you can also use other software to do the same.
You see, Design Space also allows you to upload any third party design that you've made using a completely different piece of software. That's provided the image you're uploading comes in one of the following file extension types: jpg, png, bmp, gif, svg, and dxf.
In other words, you're free to use Design Space to upload any image you want into your Cricut Maker.
Related Post: 7 Best Free Cricut Fonts For Fantastic Wood Signs
So, Can You Use Cricut Design Space Without A Subscription?
Absolutely. The Cricut Access Subscription let's you use hundreds of thousands of royalty-free images and fonts. It also has thousands of pre-made projects that you can tweak to make them uniquely your own.
Yet, it is still just an optional extra, and you do not need to subscribe to it in order to use Design Space.
Related Post: 7 Clever Cricut Maker Wood Projects
Can You Use Other Programs With Cricut? What Can I Use Instead Of Cricut Design Space?
Well, just to quickly clarify, you will still need Cricut Design Space to upload your images right into your Cricut machine.
However, you can use other designing software applications, to make those images in the first place.
Now, most popular designing softwares have hefty price tags attached to them. And these paid alternative design applications, often cost much more than a Cricut Access subscription.
Still, there is no need to pay for any subscription or design application at all. Instead, there are lots of great open source design softwares that have all of the functionality of any paid alternative.
And two of the best free design programs are Inkscape and GIMP.
1). INKSCAPE
What Is Inkscape For?
This design application lets you turn any sketch or handwritten drawing into a digital vector, image, or video file.
It'll also let you easily turn your image into an SVG file, ready for uploading into the Cricut.
Is Inkscape Free?
Yes it is, as it is an open source software application. Which means that it can be freely used by anyone.
In other words, there are no hidden subscriptions or short term trials attached.
And How Do You Use Inkscape With The Cricut?
It's fairly simple. You just save your Inkscape design to your PC.
And then the next time you open the Cricut Design Space on your computer, simply select to open a new project.
Once there, you can choose to 'upload'. You'll then have the option to find your Inkscape SVG file (in the folder you saved the file in).
Once you've imported the SVG file into Design Space, you can now go ahead and start on that project!
Start using Inkscape today by popping on over to: https://inkscape.org/
2). GIMP
What Is GIMP?
GIMP is another free open source designing software application. But, it is more commonly used for image touch-ups and photo editing.
Hence, the full name of the program is GNU Image Manipulation Program (GIMP).
Is GIMP A Free Software Program?
Yes it is, its been around for years as an free alternative to Adobe Photo Design.
GIMP can be installed and used on a MAC, Windows, and even Linux PC. It is the ultimate cross-platform image composing software. And it can also save images in SVG file format.
Is GIMP Better Than Inkscape?
They both offer slightly different levels of functionality depending on what you need.
If you want to add changes to an image that you've already made, then GIMP is the better option. It is much more suited for image manipulation than Inkscape.
However, if you want to create a whole new image from scratch, then Inkscape is more user friendly. And it is ideal for making high quality graphics and vectors.
Get the GIMP software application right now over at: https://www.gimp.org/
To Wrap Up, Here Are The 3 Key Takeaways From This Post…
1). Cricut Design Space is a free piece of software. This application lets you upload image file right into your Cricut Maker.
2). Cricut Access is a subscription service that lets you use thousands of pre-made templates, images, and fonts. But, it is not required in order to use your Cricut machine.
3). You don't need to use Cricut Design Space to make your projects. You can use free open source software, (such as Inkscape and GIMP), to make designs. Afterwards, you can then save those designs as Cricut-compatible SVG files.