It's taken weeks, but you've finally completed your walnut table. And now you're ready to give that dining table the perfect finish – one that'll make it really stand out for a lifetime.
So, what is the best finish for a walnut table?
If you want a durable top coat – one that holds up well against everyday wear and tear – then use an oil-based polyurethane finish. However, if you want walnut wood to look natural, then use a natural oil finish instead (such as Tung oil or Linseed oil).
But, if that table is going to be used on a regular basis, then a natural oil finish won't give walnut the same high level of protection as a poly finish will.
On the other hand, polyurethane will leave that table looking like its been vacuum-wrapped in plastic.
So, choosing the best finish for walnut wood boils down to one question; 'How often will you use that dining table?'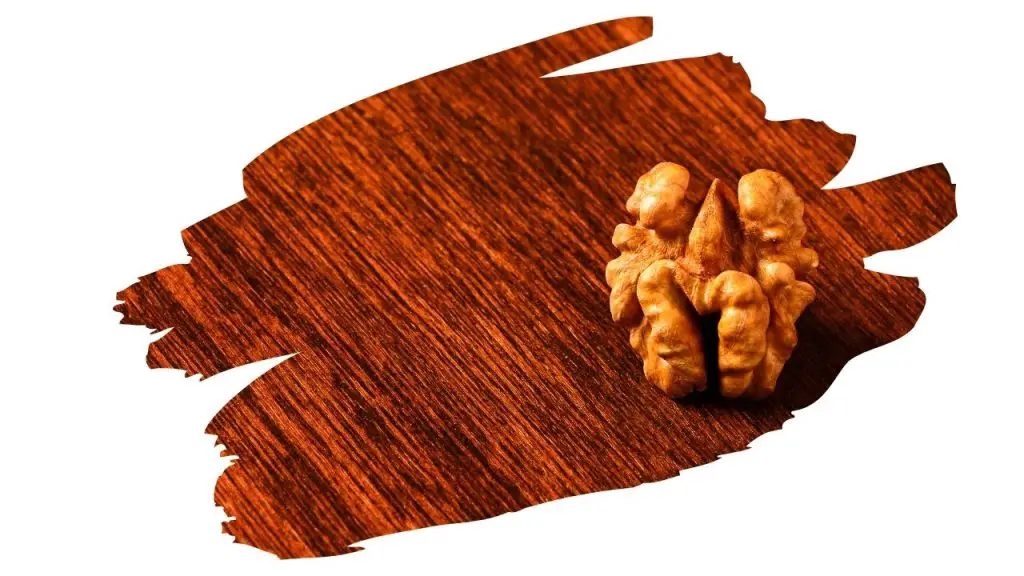 This post may contain affiliate links to products that we receive a commission for (at no additional cost to you). Learn more here.
How Do You Protect A Walnut Table?
Well, first off, walnut wood is already very hard-wearing and tough. Even without a finishing coat, it is still a naturally durable wood.
Impact Resistance
Black Walnut has a Janka rating of 1010. The English Walnut (also known as the French Walnut or Common Walnut), has a Janka rating level of 1220.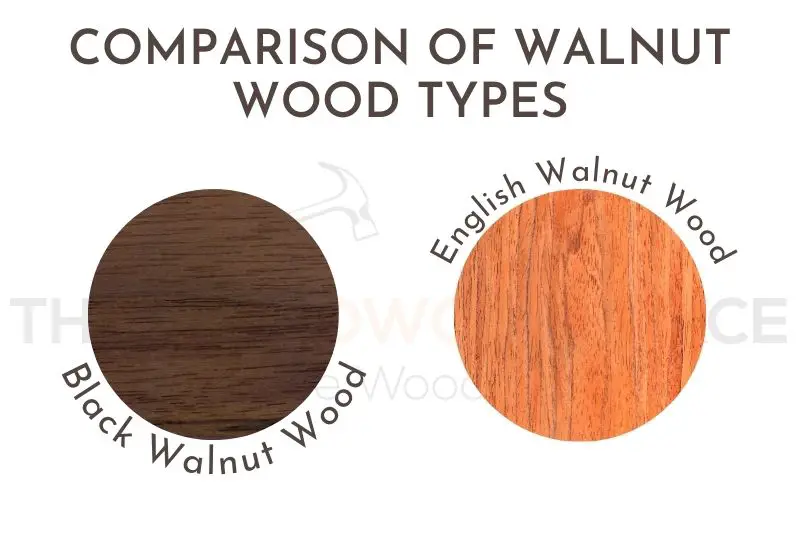 What is the Janka rating you ask? Well, a Janka rating is the amount of force a piece of timber can withstand. It is measured by the pounds of force it takes to embed a steel ball into wood.
When it comes to Black Walnut, it takes 1010 pounds of force. And English Walnut, conversely, takes 1220 pounds of force.
Is There A Difference Between Walnut And Black Walnut Wood? When we mention walnuts, we are usually referring to the English Walnut. These trees come from the Juglans Regia tree and are used for growing edible walnuts as food. Black Walnut, on the other hand, is from the Juglans Nigra tree, and is primarily used for its timber.
Rot And Decay Resistant
Black Walnut wood is also naturally resistant to decay and rot (although it is not completely impenetrable to insects and bugs).
This means that this lumber type can last longer, making it great for building structures.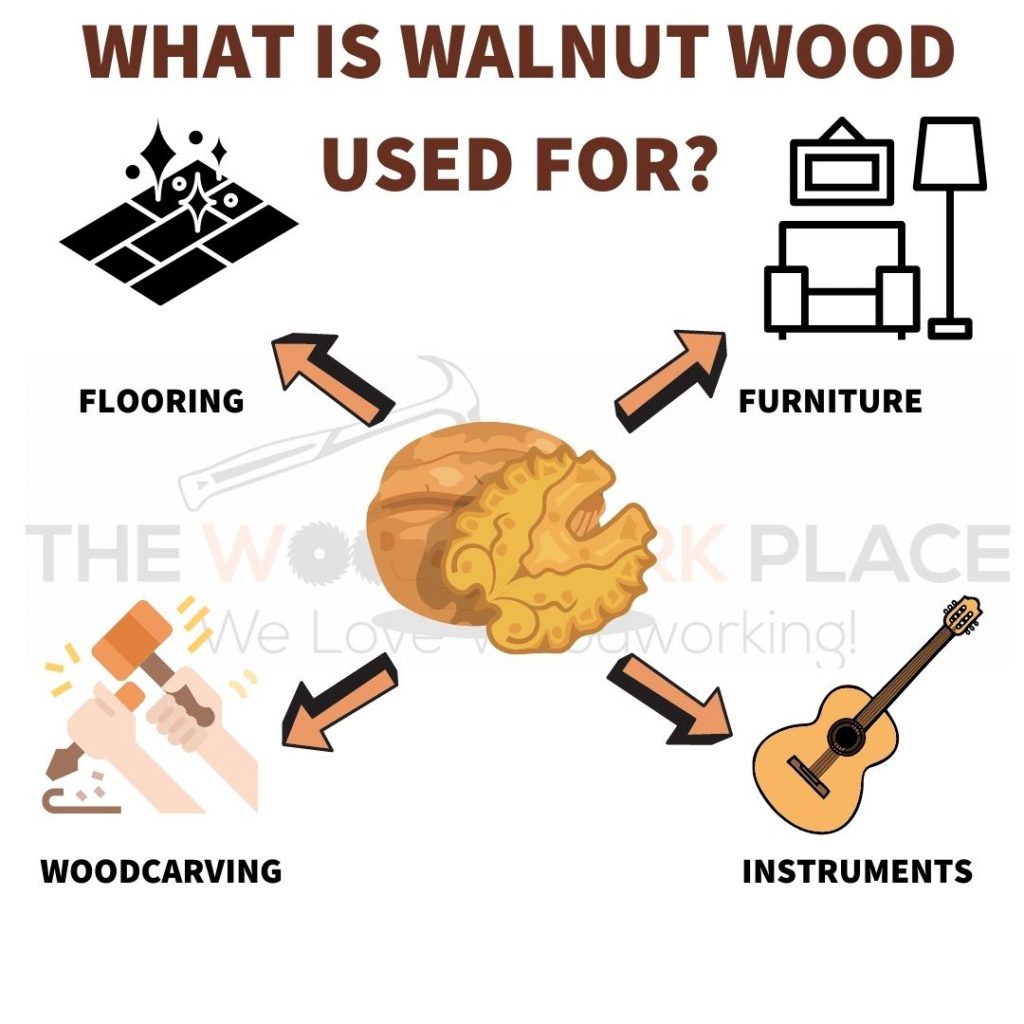 Protecting A Walnut Table: Before, During, And After Use
Still, walnut wood isn't water-tight, and will need a protective coat to prevent moisture and damp from getting into the grain and potentially warping the wood.
You can best protect walnut timber by coating it in 2-3 coats of polyurethane, natural oil, or lacquer finishing coats.
You can also keep walnut table surfaces looking great by always using coasters and place-mats.
Why? Well, when you leave wet glasses (or hot cups) on the tabletop, white rings start to form. Even leaving a drink on the table for just a couple hours can be enough to cause these unsightly white marks.
Maintain the table regularly by dusting and cleaning it with a microfiber cloth.
A great microfiber cloth for woodworking is Ettors Microswipe Cloth. Designed specifically for wooden surfaces and furniture, it buffs without leaving behind any abrasions.
You can check out the latest prices for this microfiber cloth over on Amazon.com
Also, if you've used a natural oil finish on that walnut wood, then don't be surprised if you find yourself having to refinish that table top every 2-3 months.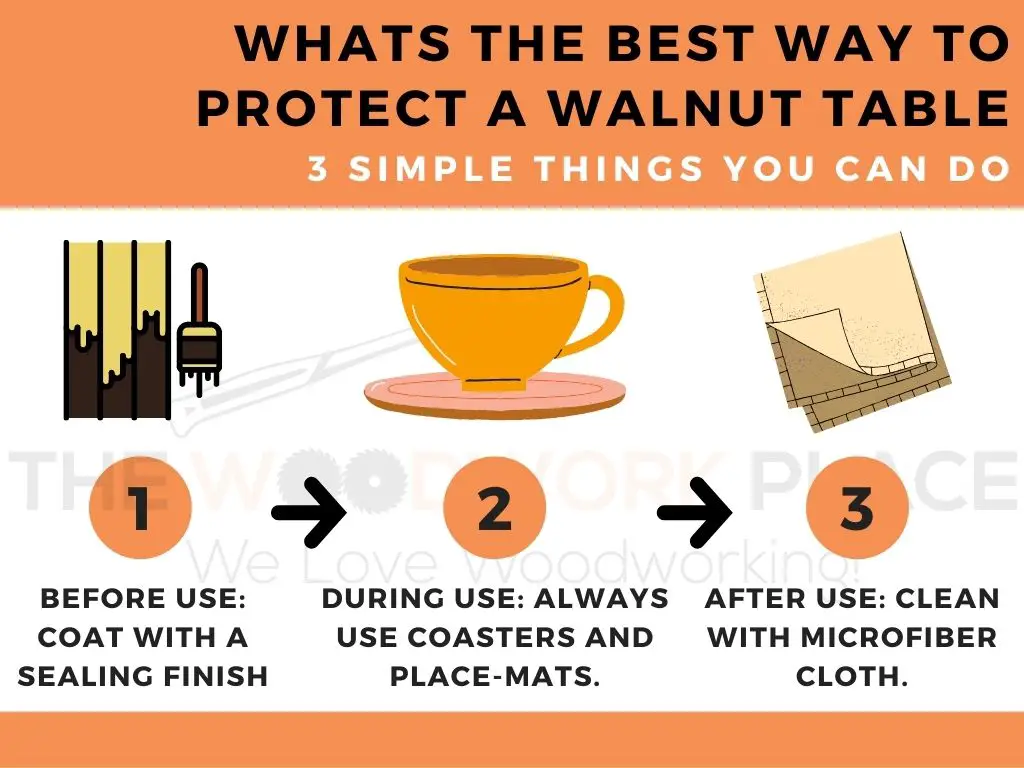 Give Walnut Wood A Natural Finish
If you want to give walnut a natural looking 'barely-there' looking finish, then and oil finish is your best option.
Related Post: Is Black Walnut Good For Outdoor Furniture?
What Oil Do You Use On Walnut Wood?
Well, you want to use an oil finish that will dry and cure into a hard waterproof shield. Not all oil finishes cure and harden, for example, Mineral oil doesn't dry.
Also, you want an oil finish that offers up either a clear colorless coat, or enriches the color of that walnut timber.
So, having said all of that, your two best oil finish choices are Tung oil and Linseed oil.
Tung oil is a natural finish that adds a warmth to walnut that is second to none. Extracted from the Tung Tree, it dries a lot more slowly than say danish or linseed oil.
Once it soaks into wood, it gives it a water-resistant covering that still gives wood a little room to flex, move and 'breathe'. And better yet, this finish doesn't go rancid or moldy.
One of the best tung oil products on the market is Liberons pure tung oil. This premium product protects walnut not only from moisture, but also from heat and alcohol spills too. Which is very handy if you want to avoid any unsightly cup rings from marring that table top.
Find the latest price for this pure Tung oil product over on Amazon.com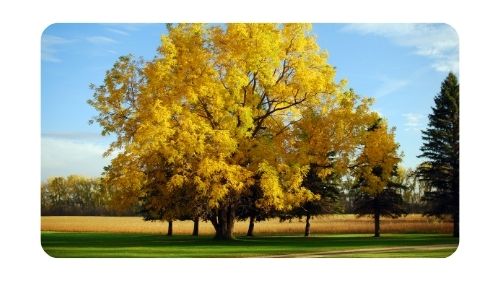 Linseed oil goes great on woods that have a deep burnished color, just like Walnut. That is because linseed oil darkens wood naturally.
This oil finish comes from flax seeds, and is commonly offered in both its Raw Linseed oil and Boiled Linseed oil varieties.
Boiled linseed oil is made from raw linseed oil. Except boiled linseed oil has been put through a super-heated treatment. This treatment process involves adding chemicals to the oil, and makes boiled linseed oil dry a lot faster than its raw counterpart.
Now, in terms of drying time, linseed oil dries more slowly than both boiled linseed oil and tung oil.
And while boiled linseed oil dries a lot faster than raw linseed oil and tung oil, it is susceptible to mold and mildew.
For a quality linseed oil finish that'll protect walnut wood from fading away, you should get yourself a can of Sunnyside Corporation's pure and raw linseed oil.
Pop on over to Amazon.com to find the latest price for this naturally sourced product.
Quick Tip For Applying Oil-Finishes: Before you apply, run a cloth (one that has been lightly dampened with warm water) over the surface of the wood. This will raise the wood grain a little before you start oiling it.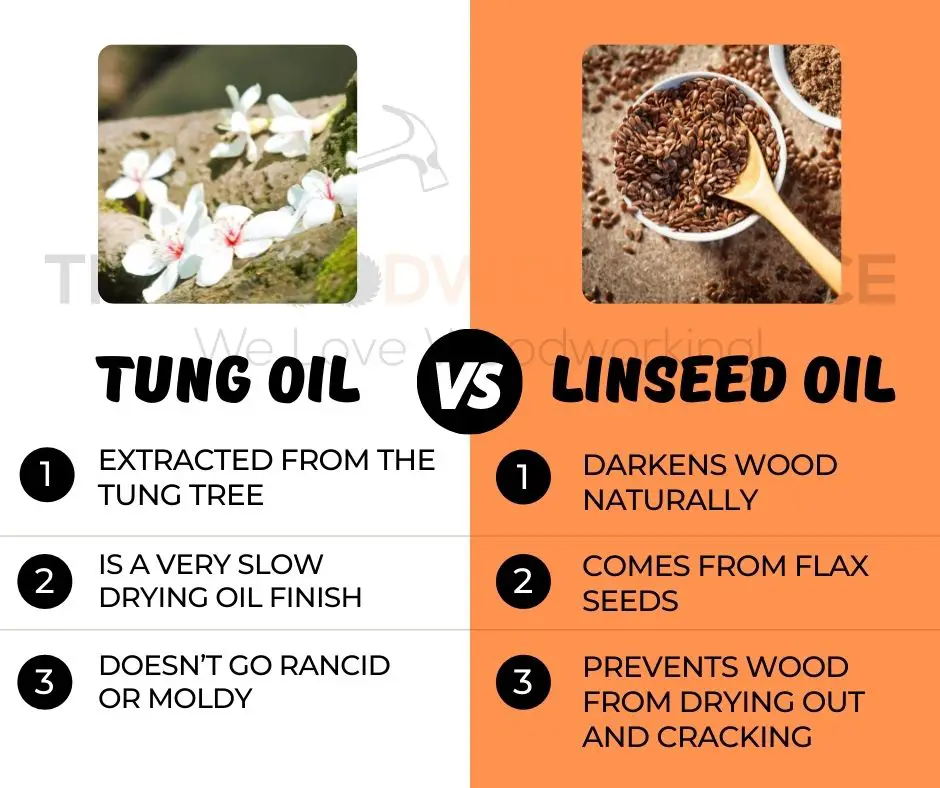 Give Walnut Wood A Durable Finish
Okay, so lets say your walnut table is going to be the mainstay of every family meal.
This means that table is going to be put through its paces everyday. So you'll need a finish that can hold it's own against regular use.
Well, if you want to give that walnut wood a coat that won't need regular refinishing, then a polyurethane finish is your best option.
Related Post: Rubio Monocoat Vs Danish Oil For Your Kitchen Table
Polyurethane On Walnut
Polyurethane is a synthetic transparent finish that forms a plastic hard resin wrapping the surface of the wood. It is water-resistant, scratch-resistant, bug-resistant, and can also prevent wood discoloration.
There are two main types of polyurethane finish; water-based and oil-based.
Water-based poly is usually a colorless clear coat that dries faster than its oily counterpart. While oil-based poly has a honey-hue that can begin to gradually yellow as the years go on.
But, whether you choose water or oil, both polyurethane finishes offer great long-term protection.
Now, one major disadvantage – when it comes to using water-based poly on walnut – is its appearance.
Water based polyurethane will give walnut wood a kind of blueish-tint to it. And that is in addition to the already plastic effect polyurethane will have on walnut wood.
So, while both poly finishes offer great protection, you are better off using oil-based polyurethane.
You won't go too far wrong by getting your hands on Rust-Oleum's oil-based polyurethane finish. Available in gloss, semi-gloss and satin, this stuff will dry in less than 2 hours – saving you a lot of time.
Go and check out the price for this oil-based polyurethane right on over at Amazon.com
Final Thoughts
So, what is the best finish for black walnut? The answer to this depends on how frequently that table will be used.
Infrequent Use: Opt for a Tung or Linseed oil finish. These natural oil finishes are water-resistant, and will help to maintain the natural good looks of walnut wood. However, you may find that you need refinish the table regularly.
Frequent Use: Opt for an oil-based Polyurethane finish. This polymer-composite will give the table top a more plastic-looking appearance. However, if you want durable protection, polyurethane will do a better job than natural oil finishes.