Looking to give your landscape timber a bit of color? Or maybe you're struggling to get green treated wood to take on stain.
You're not alone. You see, the secret to staining treated landscape timber lies in your timing. As well as how long they've been laying around at the lumber yard.
Confused? Well, in this post, we explain exactly what green treated wood is. You will also learn what kind of stain pairs well with treated outdoor lumber.
And discover how you can avoid having to wait months for treated wood to dry.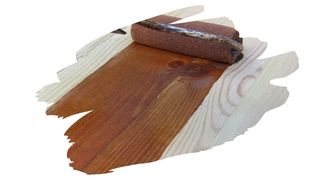 This post may contain affiliate links to products that we receive a commission for (at no additional cost to you). Learn more here.
What Is Green Pressure Treated Wood?
This specially treated lumber has been put through a process that infuses it with chemical preservatives.
In the case of green treated wood, these logs will have typically been infused with Alkaline Copper Quaternary (also referred to as ACQ).
The copper found in ACQ is key to fighting off wood rot. Acting as a fungicide, the copper inside this water-soluble preservative, makes raw wood better at staving off wood rot.
What's more, that copper agent is also the reason behind the green tint that green treated wood tends to have. That's because copper turns a green-blue color as a result of reacting to oxygen in the air.
Can You Really Stain Green Pressure Treated Wood?
Absolutely you can. Green pressure treated wood can take a coat of stain.
If wood can absorb water-based preservative treatments, then it can certainly absorb penetrating stain. Whats more, a quality stain finish can also protect treated wood from UV damage as well.
However, water and oil don't mix. So, if that green treated wood has a lot of moisture, wood stain won't be able to penetrate it. And wood stains need to sink into grain in order to give it color.
This is a big problem when it comes to staining pressure treated wood. The preservatives infused into treated wood will add even more moisture to lumber.
So, wait for treated wood to dry, before you begin to stain it.
Related Post: Should You Use Nails Or Screws For Pressure Treated Wood?
What Kind Of Stain Can You Use On Pressure Treated Wood?
You need to use an exterior graded penetrating wood stain.
Exterior graded wood stain, will have been specially designed for the great outdoors. These stains are water-resistant, contain mold-resistant additives, and can also include UV-inhibitors.
They're great at enhancing the appearance of grain too, and won't hide woods natural texture.
That's why one of the best exterior grade stains on the market is Cuprinol Garden Furniture Stain. This water based product can be used to stain any type of landscape timber. And it drys in under 6 hours.
You can check out the latest prices for this wood stain product over on the Cuprinol website right here.
How Long Must You Wait Before You Can Stain Pressure Treated Wood?
You need to wait until pressure treated wood is dry enough. And by dry, we mean wait until it's moisture content percentage is in the low teens.
You see, those water-soluble wood preservatives will have added even more moisture to wood. This, in turn, increases the 'moisture content' of a piece of lumber.
Moisture content simply refers to the amount of water found inside a wooden board, log, or landscape timber.
Now, when wood is freshly cut from a tree, it is filled with water. And freshly cut 'green wood', (not to be confused with 'green' pressure treated wood), has a moisture content of 100%.
However, when we dry out and 'season' wood, we are trying to get it's moisture content down to less than 20%. And KDAT treated wood (Kiln Dried After Treatment) has been seasoned down to a moisture content of 19% or less.
Related Post: How To Season Wood (7 Tips)
So Why Does Moisture Content Matter For Staining?
It matters, because stain cannot evenly coat treated wood with a moisture content of 18% or more. Ideally, treated wood needs a moisture content of somewhere between 12% to 17%, before it can take a penetrating stain.
That is why you need to give freshly treated timber anywhere from 3 to 6 months to dry out. After which, you can stain it.
That's Way Too Long! What Happens If You Stain Pressure Treated Wood Too Soon?
If you try and stain wood before it's dry enough, the stain won't take. You'll end up with an uneven blotchy looking color coat.
But, there are a few time saving hacks you can try, if you want to get staining sooner rather than later…
Our Top Time Saving Tips For Staining Pressure Treated Wood
Tip No.1 Only Buy 'Shop-Dry' Treated Landscape Timber
Don't purchase lumber that has been freshly treated.
Instead, ask around and find out if the lumber yard has any older treated lumber in the back. Shop-Dry lumber is basically wood that has been sat in the shop for a while.
Shop-dry treated timber is going to have a fairly low moisture content. At best, shop-dry wood should be ready for a coat of stain immediately. And at worst, you only need to wait around 2 or 3 days for them to dry at home.
Either way, you won't need to wait around long for shop-dry pressure treated wood to dry.
Tip No. 2 Dry Pressure Treated Wood Quickly
If you've already purchased freshly treated wood, don't despair. You can do a few things to speed up the drying process.
Simply read our quick and easy guide on how to dry out your treated timbers much faster. Just check out our post: How To Dry Pressure Treated Wood (Quickly And Without Warping).
How Often Do You Have To Stain Pressure Treated Wood? After you apply stain, you won't need to reapply it for 18 months to 2 years.
To Wrap Up, Here Are The 3 Key Takeaways From This Post…
1). Green pressure treated wood has been infused with water-soluble wood preservatives.
2). Due to the high moisture content of pressure treated wood, it needs to be dried first before staining.
3). If you buy 'shop-dry' treated timber, you only need to wait 2-3 days for it to dry. Otherwise, freshly treated timber can take 3-6 months to dry out.
References:
C A Cushing, R Golden, Y W Lowney, S E Holm (2007): "Human Health Risk Evaluation of ACQ-Treated Wood". Journal Human and Ecological Risk Assessment, volume 13, issue 5, pages 1014-1041.