So, you're thinking about having new crown molding installed into your home. But, when you started checking out different types of crown molding, the first thing that sprung to mind was the cost.
It's no secret that solid natural timber, (such as Pine wood), is pricier than manufactured wood types, (such as for example MDF).
For the cost-conscious, MDF (Medium Density Fiberboard), is a readily available alternative to solid wood crown molding.
But, how does it really stack up when compared to Pine wood?
Well, in this post, you will find out the top 3 pros and cons of MDF crown molding. And we reveal why you should keep Medium Density Fiberboard out of your bathroom…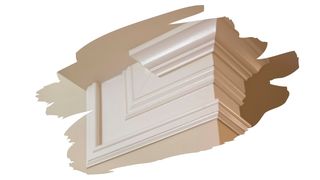 This post may contain affiliate links to products that we receive a commission for (at no additional cost to you). Learn more here.
What Is Crown Molding?
Crown molding, (also referred to as Ceiling Molding), is a piece of decorative wood that masks the dividing line between ceiling and wall.
Crown molding is placed at the top of the wall, at the ceiling. While, trim molding tends to be placed at the foot (or mid section) of the wall, floors, cabinets and windows.
Related Post: What's The Best Nailer For MDF Trim? (Everything You Need To Know)
Is MDF Crown Molding Any Good?
Based on appearances alone, painted MDF crown molding is virtually indistinguishable from solid wood molding.
Still, there's a lot more to MDF than just looks…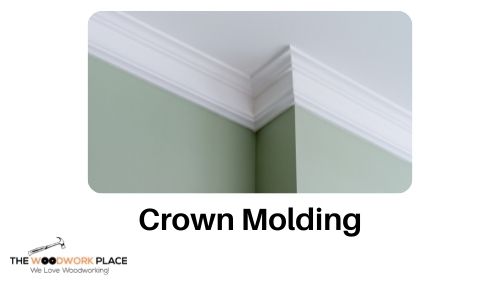 MDF Crown Molding Pros And Cons
Top 3 Pros: What Are The Benefits Of Using MDF Over Pine?
1). MDF Is More Affordable
MDF costs less than natural pine. That's why using MDF, for your crown molding, is a great way to keep interior decoration costs down.
2). MDF Is More Stable
MDF is a stable material, one that won't shift around due to mild changes in humidity and/or temperature.
While pine wood can move around and 'breathe' as it acclimatizes itself to the heat/moisture in the surrounding environment.
3). MDF Looks Identical To Solid Wood Molding (Once It's Been Painted)
Painted MDF can replicate the look of solid wood (at a fraction of the price).
Top 3 Cons: Why Is Solid Pine Better Than MDF?
1). MDF Is Heavier Than Pine
Standard MDF is heavier and more dense than solid pine wood, making it more difficult to install.
You can use ultralight MDF for crown molding, since it weighs up to 30% less than regular MDF. However, this more costly lightweight version of MDF, is more likely to dent.
2). MDF Is Hard To Affix
MDF is tricky to install because this engineered wood doesn't take screws or nails very well.
Screws can tend to blow out MDF, and nails can split it…especially when nailed too close to it's edge.
Related Post: A Quick Guide To Fastening MDF (+ The Best Screws For MDF)
3). MDF Cannot Handle High Humidity Environments
MDF may be stable, but only if it doesn't get wet. This is because MDF absorbs water more readily than solid wood, and it's easily water damaged.
So, in high humidity environments, MDF will soak up all of that moisture and vapor. And once it does, it will bow and bend out of place.
Related Post: Why Is My MDF Board Warping? (+ How You Can Fix It)
Can You Use MDF Crown Molding In A Bathroom?
Bathrooms are enclosed spaces with a lot of steam and splash-back… two things that MDF cannot handle.
In theory, if you can ensure steam build-up and splash-back won't reach that MDF crown molding, then it shouldn't be an issue.
In practice, however, the typical bathroom is pretty much MDF's Kryptonite. It provides the perfect environment for water to seep into MDF molding.
There is a reason why standard MDF isn't used outside (even with a waterproofing sealing coat). This material simply can't handle being in places that have a lot of humidity and water.
Related Post: Should You Use Brad Nails Or Finish Nails For Quarter Round Molding?
So, Where Should You Not Use MDF Crown Molding And Trim?
Avoid installing Standard MDF crown molding in the bathroom and kitchens—two home spaces that tend to be highly humid.
Standard MDF isn't waterproof—even when its been sealed with a waterproofing finish. But, you can install Exterior Grade MDF crown molding in the kitchen.
Exterior graded MDF is a very dense version of MDF that's also fairly moisture-resistant. And this material was designed for use in outdoor structures.
This material can handle high humidity situations, but you still can't get exterior graded MDF wet. So, this moisture-resistant MDF is suitable for kitchen environments… but should not be used in bathrooms.
But I've Already Installed MDF Molding In The Bathroom! What Can I Do To Waterproof It?
There is little you can do to properly 100% waterproof standard MDF molding. But, you can make MDF molding more water-resistant by coating it with an oil-based exterior-graded paint.
Exterior-graded paint can be coated onto surfaces that'll face all weather conditions. So, this paint can shrug off both rainfall and intense UV sunlight with equal aplomb.
More importantly, it will prevent water from seeping past it's coat, and soaking into the MDF material underneath.
But, just to be clear, this paint won't make MDF water-tight. However, it will go a long way towards protecting MDF from splash-back.
And What Is The Best Exterior Graded Paint?
The most water-resistant paint is the type used to coat marine-side structures and boats.
This paint is literally designed to survive being submerged in water. And it is not only water-resistant and weather-proof, it is also scratch-proof too.
So, one of the best exterior-graded paints, is Rust-Oleum Marine Topside Paint.
Available in 9 different colors, this glossy paint can be coated onto wood or even fiberglass. So, it can be applied onto MDF's smooth surface easily.
It scratch resistant of course, but what's more, it is also mildew and moisture resistant too.
You can find the latest prices for this exterior-graded paint over on Amazon.
To Wrap Up, Here Are The Key 3 Takeaways…
1). MDF (Medium Density Fiberboard) is more affordable than solid pine wood.
2). However, MDF is more moisture-absorbent than natural wood, and is easily water-damaged.
3). MDF crown molding shouldn't be installed in high humidity areas, (such as the bathroom and kitchen).
References:
Pinchevska, O., Sedliačik, J., Zavorotnuk, O., Spirochkin, A., Hrabar, I. and Oliynyk, R., 2021. Durability of kitchen furniture made from medium-density fibreboard (MDF). Acta Facultatis Xylologiae Zvolen res Publica Slovaca, 63(1), pp.119-130.
Ayrilmis, N., Laufenberg, T.L. and Winandy, J.E., 2009. Dimensional stability and creep behavior of heat-treated exterior medium density fiberboard. European Journal of Wood and Wood Products, 67(3), pp.287-295.