Are you wondering how to get stubborn grease marks and stains out of your hardwood floors? Worried that solvent-cleaner will end up doing harm to your floor finish?
If so, you're not alone. Anyone who has just had a brand new hardwood floor installed is going to be hesitant to use a solvent cleaner. Especially as some tough chemical cleaners can be strong enough to strip the finish off your floors.
However, mineral spirit often comes highly recommended as a way to remove stubborn stains. But, can you really use this solvent on your hardwood floor (without causing any damage)?
Well, in this post, we explain what mineral spirit solvents are really made of. You will also discover why mineral spirits aren't suitable for cleaning grease stains off of certain floor finishes.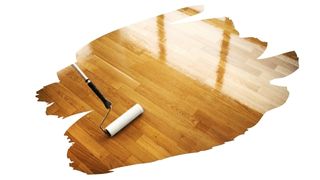 This post may contain affiliate links to products that we receive a commission for (at no additional cost to you). Learn more here.
What Is The Best Thing To Use To Clean Hardwood Floors?
The best way to clean your hardwood floors, is to use an eco-friendly cleaner. You'll want a cleaner that can break down grease without harming the floor finish.
Which is why something like highly diluted white vinegar makes a surprisingly reliable natural cleaning solution.
Put 2.75 liters (1 gallon) of clean warm water into a mop bucket. And add 120ml (0.5 cups) of white vinegar, plus 60ml (0.25 cups) of a pH neutral dishwashing liquid.
The dishwashing liquid will do all of the heavy lifting of breaking down grease, as vinegar itself doesn't breakdown oils. However, white vinegars acidity makes it a disinfectant capable of killing off some bacteria.
This non-toxic home-made solution will breakdown mild grease stains and dirt. And all without hurting your floor finish.
However, if you're dealing with more stubborn stains, you're going to need to use something a little stronger than dish soap.
Related Post: Matte vs Satin Finish on Hardwood Floors
What About Mineral Spirits? Can It Clean A Hardwood Floor?
It depends on how your hardwood floor has been finished.
You see mineral spirits are capable of softening and breaking down grease. Which is why it's used to clean wooden items to prep them for staining.
Related Post: Will Mineral Spirits Be Enough To Remove Gel Stain?
However, this solvent is still strong enough to damage a hard wax floor finish, if you apply enough of it.
That is because mineral spirit is made from petroleum distillate. Similarly to mineral oil, (which is a non-toxic finish used on cutting boards), mineral spirits are highly refined petroleum.
But, like most petroleum distillate derived solvents (such as naphtha for example) it can break down any kind of grease. Including hard wax.
So, if your floor has been finished with an oil-based film or hard wax, you'll want to be wary about using mineral spirits to clean stubborn stains.
Related Post: Why Do Mineral Spirits Sometimes Leave Behind A Residue? (Revealed!)
Are Mineral Spirits Really That Strong?
Mineral spirit, (also known as white spirit and mineral turpentine), is not the strongest petroleum distillate solvent. For example, Naphtha is much stronger and more volatile, so much so, that it's regularly used as a paint thinner.
However, mineral spirits are still a flammable toxic liquid. It can burn your skin and irritate your eyes. And if you inhale its fumes long enough, it can knock you for six.
In short, its not the strongest solvent, but don't let that fool you. Always handle mineral spirits with care.
Related Post: Can I Safely Put Mineral Spirits In A Plastic Container?
Will Mineral Spirits Stain And Bleach Out The Color Of My Hardwood Floor?
No, it won't. Mineral spirits aren't acidic, so they won't alter the color of wood. But, if you're worried about its effects on your floor, then test it out.
Simply apply that mineral spirit solution on a small unnoticeable section of the floor. Give it 15 to 20 minutes to dry, and then check to see what effect it's had on that hardwood.
Can I Simply Mop The Floor With Mineral Spirits?
This solution is a bit too harsh to apply directly onto your floor. And adding this oily solvent to water isn't going to work because, oil and water don't mix.
Instead, Mineral spirits are best used as a way to spot-clean tough marks on your floor.
So, using a clean cloth, (whilst wearing protective gloves), rub a little of this solvent into troublesome scuff marks. Give it 15 to 20 minutes to break down the marks. And then return with a fresh clean water dampened cloth and wipe away that mark, once and for all.
Will Mineral Spirits Leave A Residue Behind?
It depends on the level of refinement of that mineral spirit product. Or, to make things simple, it depends on how that mineral spirit smells.
You see, not all mineral spirits have been filtered to the same level of refinement. And it is the refining process that dictates whether a mineral spirit fluid will leave behind residue (or not).
For example, mineral spirit products that still have an odor about them, aren't as filtered as odorless mineral spirits. That's because these low odor mineral spirit products still contain highly volatile shorter hydrocarbons. And those volatile hydrocarbons are what gives low odor mineral spirit an aroma.
Regardless, these low odor mineral spirits are the kind that can leave a thin residue behind. Think of them as being more like a very (very!) lightweight version of diesel oil.
But odorless mineral spirits have been filtered free of highly volatile shorter hydrocarbons. And that extra filtering also means that this version of mineral spirit leaves behind no residue.
To Wrap Up, Here Are The 3 Key Takeaways From This Post…
1). Mineral spirits are a mild solvent derived from petroleum distillate. They can break down oils and grease.
2). Mineral spirits can also break down hard wax and oil-based floor finishes.
3). You can use mineral spirit on hardwood floors that do not have an oil-based/wax finish.
References:
Cleaning Myths Debunked: Vinegar | MaidPro.com
Peduto, V. A., A. Toscano, and M. Marchei. "Systemic poisoning caused by percutaneous absorption of mineral spirit." Minerva Anestesiologica 58.12 (1992): 1335-1338.