It's no secret that wood wax can make for a great finish on most hardwood surfaces. And, once you buff out a wax coat, it leaves timber feeling satin-smooth to the touch.
Now, there are two popular oil finish products that give you the look and feel of a hard wax finish; Odie's Oil and Rubio Monocoat.
Compared to more traditional oil finishes, (such as Linseed oil or Tung oil), these two wax products take barely any time to apply. And so they offer all of us woodworkers a fast way to finish off a wooden surface.
Related Post: Rubio Monocoat vs Tung Oil: 3 Key Things To Consider
But, to be perfectly honest, very little differentiates these two fantastic wood finishes.
Both Odie's oil and Rubio Monocoat are hard wax oil finishes that penetrate wood, leaving very little film behind on the surface. They both rub out into a satin covering that, whilst water-repellent, is not wholly 100% waterproof. But, both products are great at shrugging off scratches and abrasions, and they can even be applied over stain finishes.
So if they both offer you largely the same pros and cons, what key factor genuinely separates Odie's oil from Rubio Monocoat?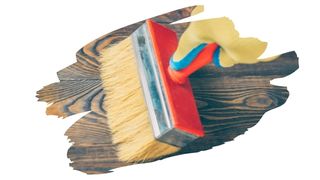 This post may contain affiliate links to products that we receive a commission for (at no additional cost to you). Learn more here.
Can You Apply These Hard Wax Oil Finishes Over Stain?
Both of these products can be applied onto stained wood.
Having said that, they both work best when you apply them directly onto bare wood. Why? Well, because they need to sink right down into wood for the best results.
You see, wood stain works in a similar way to most oil finishes; it penetrates wood grain – and this allows stain to add pigmented color to lumber.
As a general rule of thumb, you will struggle to get an oil finish to work on a stained surface. The wood stain will have already filled up those wood pores, leaving very little room for an oil finish to sink in afterwards.
But, while an oil finish may not soak in as deep, (compared to simply being applied to a bare surface), it will still manage. And, it will build up a bit more on the surface too.
However, generally, you should try to always apply hard wax oil finishes directly onto bare timber. Which means, if you want to stick to best practice, you shouldn't apply a hard wax oil finish onto a stained wooden surface.
Related Post: 7 Surprising Advantages (And 6 Disadvantages) Of Wax Finishes On Wood
So, What Should You Do Instead Of Staining?
You have a couple of options here;
You can tint the hard wax oil finish before applying it.
Or, you can purchase hard wax oil finishes that come pre-tinted in your stain color of choice.
And it's at this point where Odies oil and Rubio Monocoat really diverge from each other….
Is Odie's oil good for cutting boards? Odie's oil is non-toxic and food safe, so it can be used to seal cutting boards.
The Main Difference Between Odie's Oil Vs Rubio Monocoat: Color Range Options
Rubio Monocoat can be purchased with pre-tinted color. So, you can use this product to change the look of grain without needing to apply stain at all.
Available in a vast range of different rustic colors, (such as Dark Oak, Pine, Walnut, and much more besides), Rubio Monocoat lets you skip over those tinting/staining steps.
Odie's oil, on the other hand, comes in two main colors; 'natural oil, and 'dark'.
However, you can tint the oil manually yourself by adding pigments to it. But, it doesn't come readily prepared.
Instead, you will need to purchase one of Odie oil's 'Custom Creative Colors' pigment products. And then blend it right into the oil.
You can learn more about Odie's Oil Custom Creative Color range by clicking here.
Why Does Having A Range Of Color Options Matter?
To put it simply, it is a bit of a time saver. You won't need to spend time blending the oil to get that tinted hue just right, if you can simply pick it right up off the shelf.
But, being able to create your own tailored color oil finish also has a big advantage too… in that you can get an exact match color for your project.
Basically, you can save time with Rubio Monocoat or you can go customized with Odie's oil. The choice is up to you.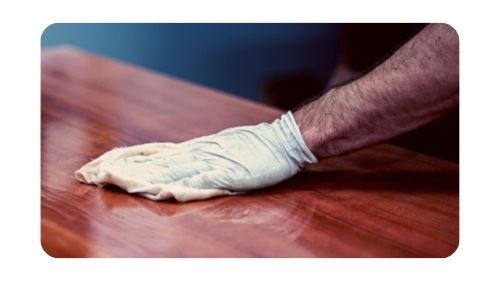 Afterwards, Can You Put Polyurethane Over Rubio Monocoat or Odie's Oil To Seal Them?
A polyurethane coat applied over either one of these hard wax oil finishes, might end up flaking off.
This problem is similar to the issue with trying to put anything, (such as Lacquer or Polyurethane), onto a waxed shellac.
Related Post: Can You Put A Durable Lacquer Finish Over Shellac?
The wax contained in hard wax is the culprit here, as this substance makes it very difficult for polyurethane to adhere to it.
But, a work-around in the form of a dewaxed shellac coat could fix this.
Dewaxed shellac sticks to anything, and in turn, most anything sticks to dewaxed shellac. So, if you coat a thin layer of dewaxed shellac onto that Rubio Monocoat or Odie's oil finish, you can then apply a polyurethane top coat onto that.
Related Post: Can You Use Shellac To Seal Over A Danish Oil Finish?
So To Sum Up…
Hard wax oil finishes are easy to apply, look great, and best-of-all they require very little upkeep (especially when compared to natural oil finishes like Linseed oil).
So, a quality hard wax oil product – regardless of which one you choose – will give you all of those benefits.
But, if you want to give that wooden surface a hard wax oil finish and a pop of color, you can save time by grabbing some pre-tinted Rubio Monocoat.
And, if you don't mind spending a little extra to customize your oil finish to your own personal color choice, then choose Odie's oil.
References
Quality of Oil- and Wax-Based Surface Finishes on Thermally Modified Oak Wood