Poplar wood is fairly ordinary.
There is nothing outstanding about it's straight uniform grain. And there's little (if any) contrast to the texture of this light-cream lumber.
Typically, if we want to enhance the look of plain wood grain, we apply stains or oil finishes to it. However, in the case of Poplar wood, this is probably the last thing you should do.
That's because this hardwood is renowned for uneven stains and blotchy finishes. And, if this is the case, can a Teak oil finish really work on a Poplar surface?
Well, in this post, you will learn exactly why Poplar wood is notoriously difficult to stain…and what that means for Teak oil.
You will also discover what really goes into a Teak oil finish…and why no two Teak oil products are ever the same.
Plus, we reveal the best oil finish for Poplar…as well as the optimal way to use it to protect this hardwood.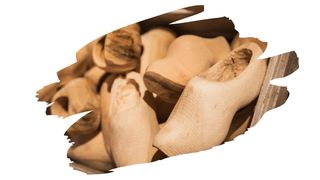 This post may contain affiliate links to products that we receive a commission for (at no additional cost to you). Learn more here.
What Is Teak Oil?
Teak oil is a penetrating oil finish that protects wood from moisture and rot. It does this by acting like a wood preservative, sinking down and coating wood fibers with a water repelling resin.
This drying oil also fills out wood pores and builds up on the surface too, drying and curing into a hard coat.
Basically, Teak oil acts like any other type of wood oil finish. But, unlike Linseed and Tung oil, Teak oil is not a natural oil.
Instead, Teak oil is a blended oil product (similar to Danish oil). This wood finish contains Linseed oil, Tung oil, mineral spirits, varnish and even UV inhibitors.
But, contrary to popular belief, Teak oil does not contain any naturally sourced oil from the Teak tree.
Can You Use Teak Oil On Any Non-Teak Wood?
Well, Teak oil was originally created for Teak wood.
You see, Teak wood doesn't need an oil finish, since it is already a naturally oily timber. However, Teak wood needs UV protection to prevent it from turning gray (due to UV oxidization).
And this is why Teak oil (with its UV inhibiting ingredients) was created.
However, Teak oil can also be used on other types of wooden surfaces too. But, this all depends on which brand of Teak oil you have to hand.
There is no industry-wide standard when it comes to Teak oil. The blend and balance of ingredients in a Teak oil product can vary wildly from brand to brand.
So, in general, Teak oil can be applied to many non-Teak wooden surfaces. However, you should always check the label to find out which particular wooden surfaces those might be.
Related Post: Should You Use Teak Oil On Cedar Wood? (Best Practice Revealed)
Can You Use Teak Oil On Poplar Wood?
Teak oil, (especially pigmented Teak oil finishes), does not pair well with this particular hardwood. Mind you, this isn't Teak oils fault, since Poplar can be very tricky to finish.
That's because any penetrating finish, that gets coated onto Poplar, will soak in unevenly. And once dry, that finish will leave Poplars once pale surface with a coat of uneven color.
This is why Poplar is classed as a Paint-Graded wood.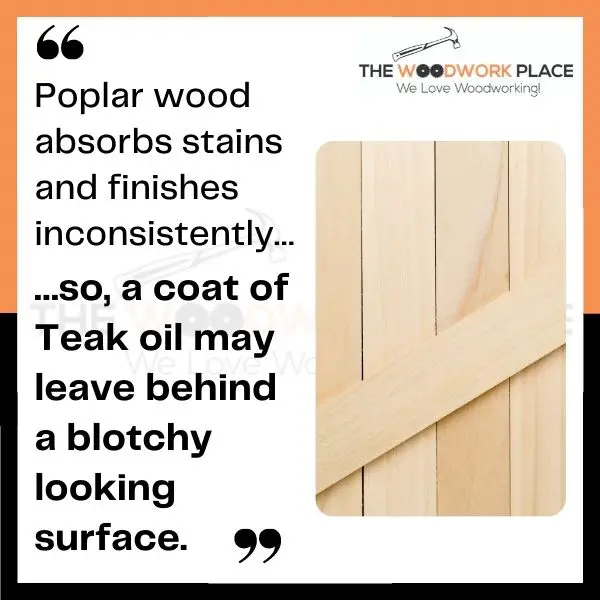 What Is Paint Graded Wood?
Paint graded wood is exactly that, it's wood that is meant to be painted.
It can mean wood that is simply 'ready to paint', (as in the case with cabinet doors or some types of plywood veneer). However, in the case of Poplar, it's a short handed way of saying that any penetrating color finishes won't turn out well on this timber.
To put it another way, 'paint grade' means you should stick to using surface-level finishes. For example, you can use paint on Poplar, because paint works by building up on the surface. So do gel stains.
However, oils and oil-based stains work by being absorbed down into wood. And these finishes are the kinds you should avoid coating onto Poplar.
Why Is Poplar Paint Graded?
Poplar wood grain is an inconsistent surface, because sections of it are 'spongier' than other parts. These spongy sections soak up oils/stains much more quickly than other parts of the surface.
This inconsistent absorption means that, if you apply Teak oil, some parts will appear darker than other sections. And, once dry, you end up with a blotchy finish.
Related Post: This Is Why You Don't Use Danish Oil On Poplar Wood (Revealed!)
Can You Oil Poplar Wood Anyway?
You can give Poplar wood an oil finish treatment, applying it as a primer so that the penetrating oil acts as a wood preservative.
You will still need to coat over it afterward, either with paint or gel stain. Or at least you should if you want to give that surface a consistent coat.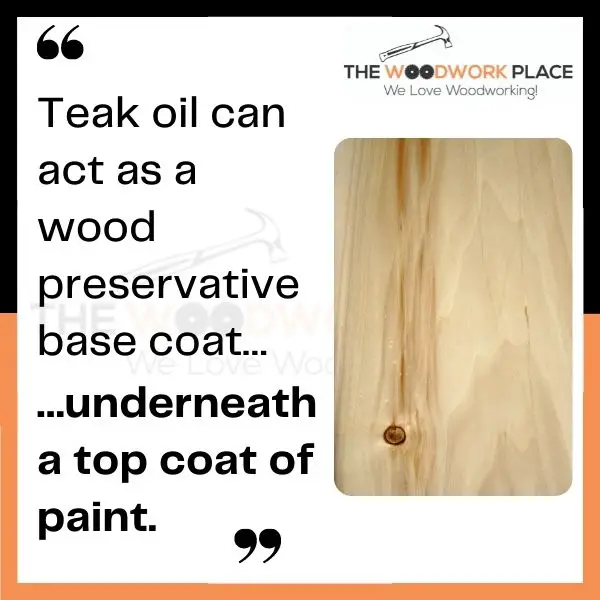 So, What Oil Can You Use On Poplar?
You could use Teak oil, but different brands vary so much, it can be difficult to know how it will turn out.
Instead, a much better option would be to use a clear pure 100% Tung oil finish. Pure Tung oil does not darken wood much, so this should minimize the effects of blotching.
And, full disclosure, make sure the Tung oil finish you use is a 100% pure Tung oil products. A lot of Tung oil products are marketed as such, but they contain little (if any) actual Tung oil.
To learn more about Tung oil application, (and how to avoid those fake-Tung oil products), check out our post here: Can You Use Tung Oil On Cherry Wood? (Avoid These 3 Simple Mistakes)
To Wrap Up, Here Are The 3 Key Takeaways From This Post…
1). Poplar wood absorbs stains and finishes inconsistently. So, a coat of Teak oil may leave behind a blotchy looking surface.
2). Poplar wood is a Paint-Graded wood. This means the best type of finish for it is a top coat of paint.
3). Teak oil can act as a wood preservative base coat, underneath a top coat of paint.
References:
Suleman, Younis H., and Sahar H. Rashid. "Chemical treatment to improve wood finishing." Wood and fiber science 31.3 (1999): 300-305.