Building your own guitar is a lot of fun.
Whether you're starting your project from scratch, (or you trying your dab hand at assembling a guitar kit), once finished you'll have a truly one of a kind custom build.
Now, crafting a simple guitar to perfection involves making a few key decisions, such as deciding on what kind of tonewood to use.
Even your choice of oil finish can mean the difference between you ending up with a guitar that has a glossy glow or a satin surface.
And there are plenty of wood finishes that look fantastic on tonewood. Linseed oil, Danish oil, and even teak oil, can all be used to dress the body and neck of a guitar.
Related Post: Can You Really Use Danish Oil To Finish A Guitar Neck?
Still, there are two particular oil finishes that frequently get used for this particular type of wood craft; Tru-oil and Tung oil.
Tung oil, is a naturally sourced product that we use to give wood a satin – almost matte – finish.
While Tru-oil, is a blend of various natural oils, (including Tung oil), and mineral paint thinners. This stuff is much thinner than Tung oil, but it will leave behind a glossy coat.
Related Post: Deciding Between Lemon Oil Vs Tung Oil For Your Fretboard
But, when it comes to Tru-oil vs Tung oil, which one is better for your instrument?
It depends on the type of finishing look you are searching for. If you want to give that tonewood a satin look, then use Tung oil. If you want more of a high gloss appearance, then use Tru-oil.
Having said that, other deciding factors can come into play; such as drying times, ease of application, and more besides. So, let's dive right into it…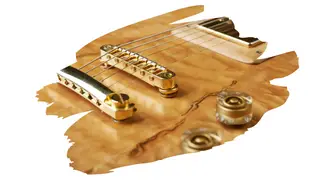 This post may contain affiliate links to products that we receive a commission for (at no additional cost to you). Learn more here.
OK, So Is Tru-oil A Good Guitar Finish?
Yes it is, because when it comes to speed, (both in applying and drying), Tru-oil is a massive timesaver.
Tru-oil is a popular finish mostly thanks to its ease of application. This is because it's added mineral thinner ingredient makes this a much thinner oil than Tung oil.
So, you can rub this stuff into wood using a simple rag – and very little elbow grease. And it'll dry much more quickly than a Tung coat.
What Is Tru Oil Made Of? It made from a blend of Linseed oil, Tung oil, varnish, and mineral paint thinners.
How Many Coats Of Tru-oil Should I Apply (For A Glossy Finish)?
Here's the thing, those mineral paint thinners make it easy to apply this product. However, they don't help Tru-oil penetrate wood more deeply at all.
Oils like Linseed and Tung work most of their magic underneath the surface. They soak right into wood, coating wood fibers to protect them from moisture and rot.
Yet, when it comes to Tru-oil, this stuff doesn't sink in as much as other oil-based finishes. Instead, it does more of its work on the surface, building up a nice film there with each subsequent coat.
But, it needs lot's of coats to do this. Don't be surprised if it takes 12-15 coats of Tru-oil to truly get it to evenly cover wood.
Tung oil, on the other hand, needs half as many coats. Pure Tung oil needs some 5-6 coats before you can call it a job well done. And a Tung oil blend, such as Minwax Tung oil finish, requires as few as 2 coats.
You can find the latest prices for Minwax Tung Oil over on Amazon.com
How Many Coats Of Tung Oil Should Be Used? If you're applying a truly pure Tung oil finish, then a minimum of 5 coats will get you that satin end product. If you are using other types of Tung oil products, then you will need to brush on a minimum of 2 coats.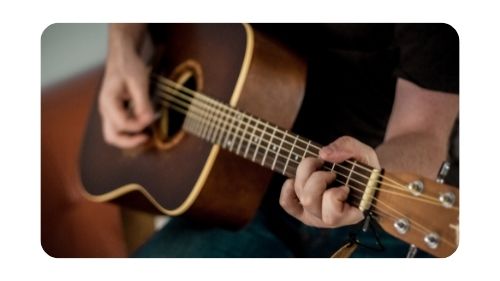 But, Is Tung Oil Any Good For Wood?
Pure Tung oil is an age-old wood finish that does brilliantly at making wood rot and decay resistant.
A quality pure Tung oil coat will dry into a transparent almost matte finish – and won't darken wood.
However, not all Tung oil products are made from Tung oil.
In fact, a lot of Tung oil products listed in stores don't even have any Tung oil in them. Instead, they are made up of a mixture of other oils, varnish, and thinners.
But, as long as you stick to the premium stuff, such as Liberon's Pure Tung oil, you won't go too far wrong by selecting this particular oil for wood.
You can check out the latest prices for Liberon Pure Tung oil by visiting Amazon.com
But, fair warning, this finish takes an age to dry and cure.
And this long drying time is a big reason why so many so-called Tung oil products on the shelves aren't made from the pure natural thing. They usually have additives thrown in to help speed up the drying process.
This is because Tung oil takes an age to dry and cure. Which further leads to making application of this finish a slow and exasperating process. Especially when you have to wait for it to dry in-between coats.
Tru-oil takes 2-4 hours to dry. Tung oil, meanwhile, takes up to 24 hours to dry.
Yet, even with it's almost frustratingly long drying time, this finish is worth the wait.
Related Post: Tung Oil Not Drying? (3 Simple Ways To Fix It)
In Quick Summary…
Deciding between these two well-known wood finishes is pretty simple. It all boils down to the amount of time you have (and the level of shine you're looking for):
If you want a quick drying shiny finish, then Tru-oil should be your first choice ahead of Tung oil.
If you want a matte/satin finish – plus you are willing to be patient – then Tung oil should be your go-to option.