The difference to the untrained ear may be too subtle to notice, but there is distinct improvement in sound quality as a tonewood ages.
Aged solid wood (if well maintained) goes through a subtle change that ultimately improves the sustain of a solid wood guitar.
But what about laminate guitars? Do they also improve with age in a similar way?
Well, in this post, you will learn why solid wood guitars sound better with time — and whether laminate guitars can too.
You'll also discover why the way a laminate guitar has been manufactured can impact its sound quality over time.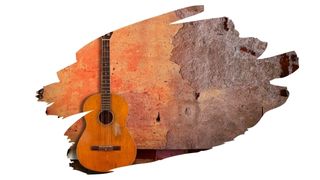 This post may contain affiliate links to products that we receive a commission for (at no additional cost to you). Learn more here.
First Off, Can Laminate Guitars Actually Sound Good?
Well, laminate guitars are created by gluing thin layers of different materials (often wood) together.
These layered sections are used to make the entirety of the guitar body. However, you can get laminate guitars, (referred to as 'Laminate Tops'), that combine a solid wood top with laminate sides and backs.
Now, the quality of sound from a laminate guitar (compared to solid wood) is noticeably lower than solid wood guitars.
It's kind of hard to describe the difference in sound quality between the two. But let's try using the example of instant coffee compared to coffee brewed from the bean.
Solid wood guitars (coffee brewed from beans) have a richer fuller sound resonance than guitars that are all laminated (instant coffee).
But, having said that, this doesn't mean that laminated guitars sound bad overall, since they can still produce great sustain.
Are Laminate Guitars Generally Stronger Than Solid Wood Ones? When it comes to all-laminate guitars, all of those layers reinforce one another. So, laminate guitars are often more robust and more durable than a solid wood guitar.
And Do All-Laminate Guitars Sound Better With Age?
It depends on how that guitar was manufactured.
Solid wood acoustic guitars sound better with age due to the natural changes that occur — at a cellular level — inside wood.
So, a laminate guitar that has a solid wood top can sound better with time. Why? Well, because the solid wood top of the guitar will naturally age as per usual.
However, guitars that are completely laminated don't sound better with age. And that's because laminated materials do not go through the same structural changes that natural solid wood does.
First off, laminated materials contain a lot of glue (used to bind the layers together). Second, they have also been put through additional heat and other treatments that dry them out more than solid wood.
So, the material of laminate guitars do not go through the same changes that solid wood does over time.
And What Is This Change That Makes Solid Wood Guitars Sound Better As They Age?
Well, we all know that aging of wood helps to improve woods ability to hold sustain.
Sustain refers to how long a note resonates for. The longer that note holds, the better the sustain.
And when it comes to wood, the harder the timber the better the sustain. Which is one reason why, for example, Mahogany wood guitars sound better than Poplar wood guitars.
Related Post: Deciding Between Poplar Vs Mahogany Wood For Your Guitar
But, here's the thing; timber can become even harder over time. And this is because, as wood ages, it becomes ever more dry.
So, the sound quality improvement that you're hearing is a result of woods decreasing moisture content.
Come Again? What Is Moisture Content Exactly?
Moisture content refers to the way we measure moisture in any piece of material.
When wood is first logged, it has a moisture content of around 100%. However, through seasoning, (which is a months-long process designed to dry-out freshly cut wood), its moisture content falls to 19% or less.
But, even after seasoning, wood can continue to dry out even more. And over the months and years, (if you manage to keep wood away from moisture/humidity), what little moisture left in it will continue to evaporate.
And when there's very little moisture left, this makes wood even harder, increasing the tensile strength of this material. And that, in turn, improves the sustain of a solid wood guitar.
To Wrap Up, Here Are The 3 Key Takeaways From This Post…
1). Solid wood acoustic guitars can tend to sound better over time. This is because natural solid wood goes through changes that make this material more resonant.
2). Guitars that are wholly laminated tend not to sound better with age. This is because their material does not undergo through the same natural changes.
3). However, guitars that have solid wood tops — and laminated sides/backs — can sound better over time as well.
References:
Fundamentals Of Guitar Tone | The Journal of the Acoustical Society of America