Between rain, UV rays, and humidity, the great outdoors will really test the mettle of wood. And, if you aren't careful with your wood selection, your garden furniture could rot away fast.
That's why rot-resistant hardwoods, such as Ipe and Rosewood, dominate as prized lumber choices for outdoor furniture. Yet, what about the more affordable Spruce softwood?
Widely used for construction building work, how does Spruce wood fair as a choice for outdoor garden furniture?
Well, in this post, we dive into what type of wood makes for truly durable weather-resistant garden furniture. You will also learn why Spruce woods stability makes it great for framing — but less so as a garden table.
And keep reading to discover which wood is ideal for an outdoor furniture set…
This post may contain affiliate links to products that we receive a commission for (at no additional cost to you). Learn more here.
What Is The Best Wood For Outdoor Furniture?
Outdoor furniture is going to be exposed to a lot of humidity, rain, and overall weathering. So, it needs to be made from wood that's able to hold its own against rot, decay, and insects.
This is why Teak wood is one of the most popular timber choices for garden furniture, and decking.
You see, Teak wood is a tropical hardwood that's filled to the brim with moisture-blocking tree oils. This oil saturates the grain of this lumber, preventing moisture from soaking right into it.
Also, between those oils and this lumbers toughness, bugs struggle to burrow into it too. And as a naturally moisture-resistant wood, it is not prone to warping and cracking.
So, all of this makes Teak wood a great choice for outdoor furniture.
Related Post: Can You Apply Lemon Oil On A Teak Wood Surface?
And What About Spruce? Is Spruce A Good Exterior Wood?
Well, Spruce is famously used for construction framing. It's great for forming the initial framework of rafters and joists.
So Why Is Spruce Used For Framing?
The reason why Spruce is used for framing is because it is a stable wood. Which means that it doesn't warp and twist if it gets damp. However, as a straight grained softwood, it still has a little bit of flexibility to it. And this, in turn, allows that Spruce framing to have a little bit of give.
It's why Spruce, along with Douglas Fir and even Pine, are widely used for this type of construction structure.
Related Post: Is Whitewood Really Any Good For Framing?
Now, construction framing doesn't have direct contact with the ground. These frames are setup and formed on concrete. Which is a good thing, because Spruce wood doesn't last long if it has direct contact with ground soil.
In other words, if your Spruce wood outdoor furniture is placed on garden soil, it will quickly deteriorate.
What If I Keep Spruce Furniture Off The Grass? Is It Rot-Resistant Enough To Last Anyway?
Spruce wood is not very rot-resistant. Even the most dense part of Spruce timber, its heartwood, is at best moderately resistant to rot.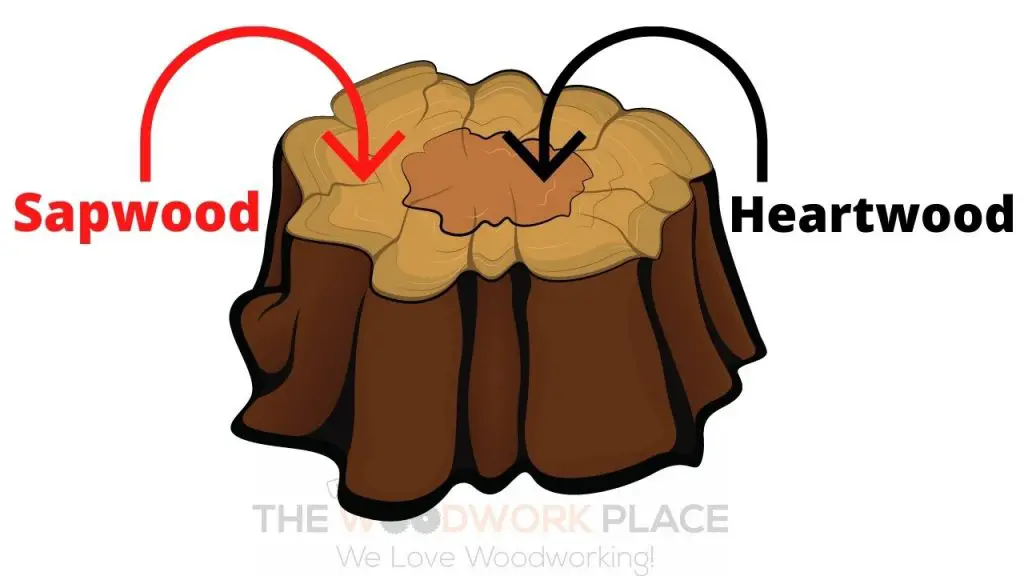 Regardless, that regular wet/dry cycle of rain and sunshine will riddle Spruce wood with rot. And although Spruce will stay stable, it can still split and splinter due to relentless weathering.
So, Can You Use Spruce For Outdoor Furniture?
No, it's not a suitable wood choice for garden furniture. You would have to work too hard to protect this timber from weathering.
You would have to keep it permanently it off the grass, bring it inside when it rains, seal it up watertight…the list goes on.
In short, its not a good wood choice for garden furniture.
To Wrap Up, Here Are The 3 Key Takeaways From This Post…
1). Outdoor furniture needs to be made from wood that's naturally resistant to rot, decay, and insects.
2). Spruce wood is a stable softwood. But it is — at best — only moderately resistant to rot.
3). A better option for outdoor furniture is Teak wood. Thanks to it's wood grain saturating tree oils, this hardwood is naturally rot-resistant and durable.
References:
Rajala, T., Peltoniemi, M., Hantula, J., Mäkipää, R. and Pennanen, T., 2011. RNA reveals a succession of active fungi during the decay of Norway spruce logs. Fungal Ecology, 4(6), pp.437-448.