So you just finished staining your piece of furniture and you want to protect it from any future water damage. However, the very last thing you want to do is hide the beauty of your freshly stained project.
Now, I have been using gel stain on furniture pieces for a few years. I have found that the resulting finish is a very natural look. I also find it to be a great way to produce a toned down appearance as compared to traditional stain.
Well, this is where polyurethane comes in. This waterproofing sealant does a brilliant job of keeping out moisture and sealing in the color of most types of wood stains.
But can you put polyurethane over gel stain?
Yes you can put polyurethane over a gel stain to seal in the color and protect the wood underneath from moisture. However, polyurethane can be a bit harsh on gel stain coats. And if you were to apply it directly onto gel stain it could end up wiping some of the stain off.
This is because gel stains don't quite color wood in the same way as traditional stains do. You see, traditional wood stains add color by soaking right into wood. Gel stains, on the other hand, sits on top of the wood like paint.
All of which means that when you brush polyurethane directly onto it, some of that gel stain can end up smearing right off onto that brush.
So what can you do to prevent gel stain from wiping off? And is polyurethane really the best way to seal it? If you're interested in finding out the answers to these questions and more, then read on…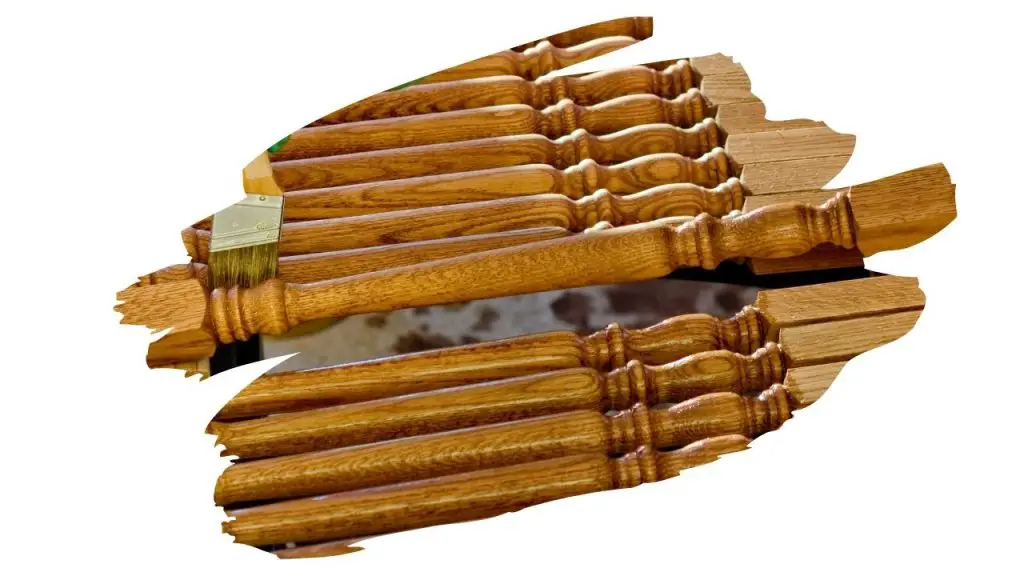 This post may contain affiliate links to products that we receive a commission for (at no additional cost to you). Learn more here.
What Kind Of Sealer Should You Put Over Gel Stain?
Ideally, you should use a Gel Top Coat over Gel Stain. Gel Top Coats (specifically oil-based ones) have a higher amount of urethane content in them compared to your typical standard polyurethane finish.
Also, they can give that gel stain coat a satin looking finish that polyurethane often struggles to offer. Which is great if you want to avoid that plastic looking appearance that polyurethane finishes can sometimes give off.
Do You Even Need To Use Polyurethane Over Gel Stain?
At the end of the day, regardless of what you use, gel stain always needs a sealing top coat. Whether that be a gel top coat or a polyurethane finish – it really doesn't matter.
All stains – including gel types – need a top coat to offer waterproofing and durable protection.
So, while you don't need to use a polyurethane specifically, you will need to use something to finish that gel stain with.
What Kind Of Polyurethane Do You Use Over Gel Stain?
There are two main types of poly finish that you can use; Oil Based and Water Based.
Oil based poly is much better looking than its water based alternative – thanks to its softness when dry. However, water based poly dries and cures faster than oil based versions.
Related Post: Polyurethane Not Drying? What You Can Do To Fix It
Now, the kind of poly finish you use depends on whether or not that gel stain is fully dried and/or cured.
You see, when a finish is 'dry' we are referring to the fact that it has been through an evaporation process. All of the moisture in the finishing coat has evaporated away leaving a thin film that is dry to the touch.
However, when a finish is 'cured' we are referring to a chemical process. Chemicals in the finish have turned that finish from a thin film into a hard durable resin coat.
Related Post: Gel Stain Not Drying? (Learn How To Fix This Common Gel Stain Problem)
Using Oil Based Polyurethane Over Gel Stain
If you are sure that the gel stain coat is dry all over (usually takes up to 24 hours) then you can apply an oil based polyurethane over it.
However, there is one caveat… polyurethane can end up wiping off some of that gel stain by mistake. So, to prevent this, you may need to add a single coat of shellac over the gel stain first.
A clear coat of shellac finish will keep the gel stain from wiping off. However, shellac is not a waterproof finish. So you will still need to add that polyurethane top coat over it to seal the deal.
So, Can You Put Water-Based Polyurethane Over Gel Stain?
Sure, you can… but only once the gel stain has cured. This means waiting up to 4-7 days for the gel stain coat to solidify into a hard layer atop the wood. Only then is it ready for a water based poly finish.
Related Post: Can I Apply Water Based Polyurethane Over Danish Oil? (Solved!)
So, How Long Should Gel Stain Dry Before Adding A Polyurethane Coat? Give it up to 24 hours to dry before adding an oil based polyurethane. However, it will need 4-7 days to cure if you plan on applying a coat of water based polyurethane.
So, To Sum Up
Polyurethane is a great sealer that you can use on most any type of wood to protect it from moisture. It's very easy to apply with an applicator pad, brush, or a sprayer. And it can be brushed onto wood that has been stained with an oil stain, water based stain, or even gel stain.
But before applying you should take care to avoid wiping off the underlying color. Don't directly coat the gel stain. Use shellac as primer before brushing on that polyurethane instead.
References
Curing kinetics and chemorheological analysis of polyurethane formation – Dimier – 2004 – Polymer Engineering & Science – Wiley Online Library
Air convective drying and curing of polyurethane-based paints on sheet molding compound surfaces | SpringerLink