Building the best van floor possible is important for many reasons (improved strength, increased rigidity, quieter ride).
However, if you want to squeeze every last ounce of value out of that plywood then the type of plywood you use also matters. Especially if you want something to last the test of time on those long road trips.
If you want the best type of plywood for a van floor, then use Exterior Graded plywood made from a durable hardwood such as Birch wood. Sometimes referred to as 'outdoor' or 'structural' plywood, the veneers of this manufactured wood have been glued using a waterproof adhesive. Which makes it more water resistant than standard interior graded plywood.
Still, here's the kicker, that water resistant exterior graded plywood glue is made using formaldehyde resins. And high humidity coupled with warm temperatures can release that formaldehyde. In other words, if your van has say a kitchen area or a shower unit, then that plywood underfoot could become a long term worry.
On the other hand, what interior graded plywood lacks in water resistance it more than makes up for in price. And if you don't think your van floor will become all that damp too often, then interior ply should be fine (although it may need to be replaced every few years).
Both of these plywood types come with different trade-offs: water resistance and price. And your decision depends less on your van's interior layout and more on how you plan to use the van itself (i.e. dwelling in the van verses using the van for building work).
So, how do you choose the best one for your van flooring? Well, there are some things you need to know first…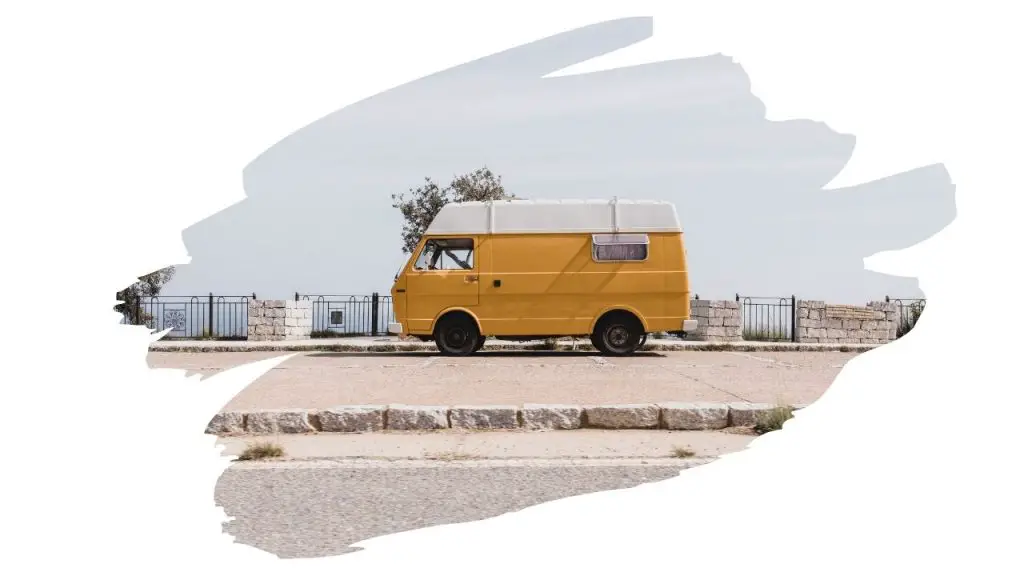 This post may contain affiliate links to products that we receive a commission for (at no additional cost to you). Learn more here.
So, What Kind Of Wood Is Used For Van Floors?
Unsurprisingly, there are a couple more options on the table – lumber wise – for your van floor. Besides plywood, you can use other wood types such as;
Cork Flooring: Made from cork oak tree bark, this environmentally friendly material is more mold, mildew and water resistant than most other hardwood flooring. Its much cheaper than plywood too, and can last decades if well maintained.
OSB Flooring: OSB (also known as oriented standard board) is a subfloor material made by compressing flat wood chips into sheets. It's cheaper than plywood, (which is why it often comes up as an option for van floors), and it holds screws and nails fairly well. However, this material doesn't handle moisture and damp anywhere near as well as Plywood or Cork flooring does.
Related Post: Can OSB Board Really Get Wet? (7 Things You Need To Know)
OK, But What Type Of Plywood Is Used For Van Subfloor?
More often than not, your standard interior plywood will do in a pinch (provided that you properly fill in any voids and seal it well like we describe in this post here).
Related Post: Beginners Guide To Plywood Sealer (What You Need To Know)
If your van is going to be your van life abode, then interior graded plywood is your best option. Provided that you make an effort to keep that floor dry – and prevent condensation build-up inside your van.
If you're not using your van as a dwelling, then exterior graded plywood is perfectly fine. You won't be risking spending your nights breathing in potentially harmful formaldehyde releases during humid weather.
What About Marine Grade Plywood? Isn't That A Better Option?
If you want the highest quality plywood possible, then Marine Grade Plywood has it all. Its made from high quality void-free veneer. Its formed using 5-ply (as opposed to the standard 3-ply found in Exterior/Interior plywood).
It even uses a more water resistant adhesive glue to bind those layers together. In fact, the glue used in marine plywood is even more water resistant than the glue used in Exterior plywood.
All of which makes this a great plywood for marine constructions and boats. It also makes this the priciest plywood type on the market.
However, unless you plan on driving your van through blue ocean seas on a regular basis, you likely don't need to go overboard and use marine plywood for your vans floor.
Exterior/Interior plywood is really all you need for your vehicle.
How Thick Should Plywood Be For A Van Floor? Sheets of 3/4″ plywood is about the right level of thickness for a van life dwelling.
So, To Wrap Things Up…
What makes exterior graded plywood the best choice for a van? Well, it's a durable and hardwearing type of plywood that makes it great for a van floor. Plus, the waterproof glue that has been used to construct it makes it even stronger and better suited to surviving life on the road.
This type of plywood is typically used for any vertical work that occurs outside, like gazebos, decks, patios or outdoor projects. And as you might expect the strong adhesive bond helps prevent water damage to the underlying layers of veneer. Not to mention it's also more resistant to termites and decay compared to standard plywood. 
So for your van conversion project, Exterior Graded plywood is the best type of material to use. 
Related Post: What Is The Best Plywood For Outdoor Use? (Solved!)
References