There was a time, long long ago, when wood wax was popularly used to finish furniture.
Nowadays, however, this aesthetically pleasing finish has fallen out of favor as a choice top coat. But, that shouldn't stop anyone from using this natural substance to give your wood craft a satin touch.
Related Post: 7 Surprising Advantages (And 6 Disadvantages) Of Wax Finishes On Wood
Now, the particular brand or specific type of wax product you use can vary wildly. Yet, in the end the result is always the same… a wonderfully polished looking finish.
Still, wood wax works best when applied as a final top coat. So, if you've already coated your craft with glossy shellac, will wood wax stay in place on top of it?
Wood wax adheres onto a coat of shellac surprisingly well. Whether that shellac is waxed or dewaxed, once it has cured, a wood wax or paste wax can be applied onto it.
But, what should you do to make sure that wood wax layers on without a hitch? And are wax finishes really the best way to seal in that shellac?
Well, in this post, you will learn why wood wax is more about keeping up appearances, than about safe-guarding wood. You'll also discover how frequently you need to touch-up and reapply wood wax.
And find out why you should avoid using certain types of paste wax products over shellac…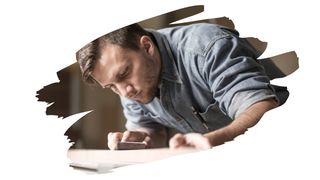 This post may contain affiliate links to products that we receive a commission for (at no additional cost to you). Learn more here.
Can You Put A Top Coat Over A Shellac Finish?
You can top coat dewaxed shellac with almost anything, such as polyurethane, lacquer, and varnish. This type of shellac is so sticky it gets on well with most finishes.
However, waxed shellac shrugs off almost everything, including all of those popular top coating sealers. But, it doesn't mind one particular type of top coat… wood wax.
What Is The Difference Between Waxed and Dewaxed Shellac? The difference is in their wax content. Dewaxed shellac has had all of its natural wax removed. While waxed shellac continues to have all of its natural waxy substance.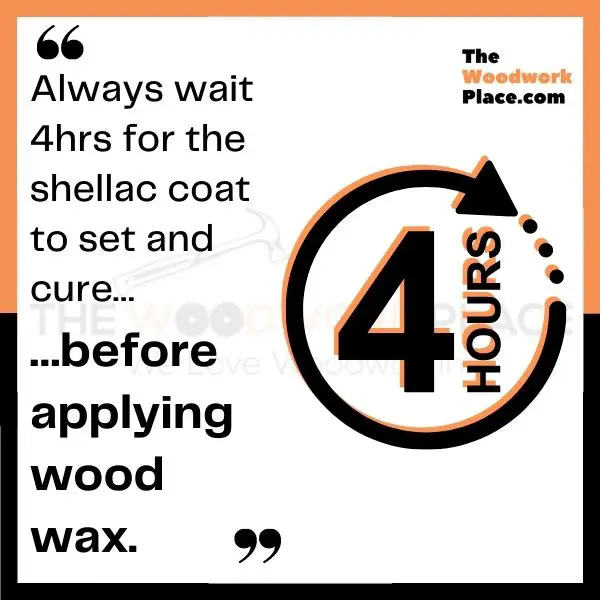 So, Can You Wax Over Shellac Without Issue?
As long as that shellac coat is dry and cured, wax will adhere to it. And wax will even take off a fair amount of shellacs high gloss too.
But, wax is not a protective finishing top coat. It is not waterproof. In fact, it is barely water-resistant.
It doesn't do well on the surface of high use items. And wax will need a touch up every 6 to 12 months.
Related Post: Can You Varnish Over Wax Finished Furniture?
Honestly, the only real purpose of wood wax on shellac is the aesthetic of helping dull shellac's glossiness.
Still, if you stick to a few best practices, wood wax won't have an issue sticking and staying in place atop shellac.
Top 3 Best Practices For Applying Wax Over Shellac:
1). Apply wax using a lint free cloth.
And use a smooth circular movement as you do, rubbing with the grain.
2). Always wait for the wood wax to dry before you begin to buff it out.
This should take around 15-30 minutes, depending on room temperature.
3). Rub and buff out the wax manually using 0000 steel wool.
And if you've waited for the wax to wholly dry before you begin, steel wool fibers won't end up trapped in the wax itself.
Related Post: Can You Put Lacquer Over A Wax Finish? (Best Practice Revealed)
What About Paste Wax? Can You Put That Over Shellac Too?
Paste wax, (also known as finishing wax,) is a wood wax blended product. It is made by mixing natural wood waxes, (such as Beeswax or Carnauba wax), with artificial waxes, solvents, and other additives.
Paste wax works just as well over shellac as any other wood wax. But, paste waxes that have been blended with a penetrating oil, (such as Tung oil), work best by soaking into wood.
This combination of penetrating oil + wax does a slightly better job of repelling water, (compared to solvent-based paste wax blends).
However, that shellac will prevent these oil-blended paste waxes from sinking into lumber. Which is a shame, because penetrating paste waxes work best by soaking into wood grain.
Regardless, it's always best you avoid using paste waxes that have been blended with a non-drying oil (such as mineral oil). These particular oily paste waxes can sometimes leave behind a permanent greasy feel to that waxed surface.
A great paste wax is the market leading Minwax Paste Finishing Wax. Available in 'natural' and 'dark' colors, this is a paraffin wax product that doesn't need to sink into wood to work.
You can find the latest prices for this paste wax over on Amazon.com.
How Long Should Shellac Dry Before You Begin Waxing? Shellac dries really quickly, (less than 30 minutes), but it needs up to 4 hours to set and cure.
To Sum Up, Here Are Your 3 Key Takeaways…
1). Wood wax will adhere onto either a waxed shellac or dewaxed shellac finish.
2). Always wait for the shellac coat to cure first before applying wood wax.
3). And let wood wax dry properly before buffing it out with 0000 fine steel wool.
References:
Superhydrophobic coatings on wood made of plant oil and natural wax – Science Direct