It's a question that carpenters and woodworkers have struggled to answer for decades; can you really have too many clamps?
Short Answer: No!
But, when there are so many different clamps on offer, how do you figure out which clamps are right for you?
And, to be perfectly frank, there really is an astonishingly wide range of different clamps to choose; from Hand Screw clamps, to Parallel Clamps, to Spring Clamps… plus everything else in between.
But, for most woodworking projects you only need 3 types of woodworking clamps; Bar Clamps, Strap Clamps, and Pipe Clamps.
Keep in mind, you can always add more clamps to your toolbox later on. But, if you keep reading, you will learn why these 3 particular all-purpose clamps are all you need.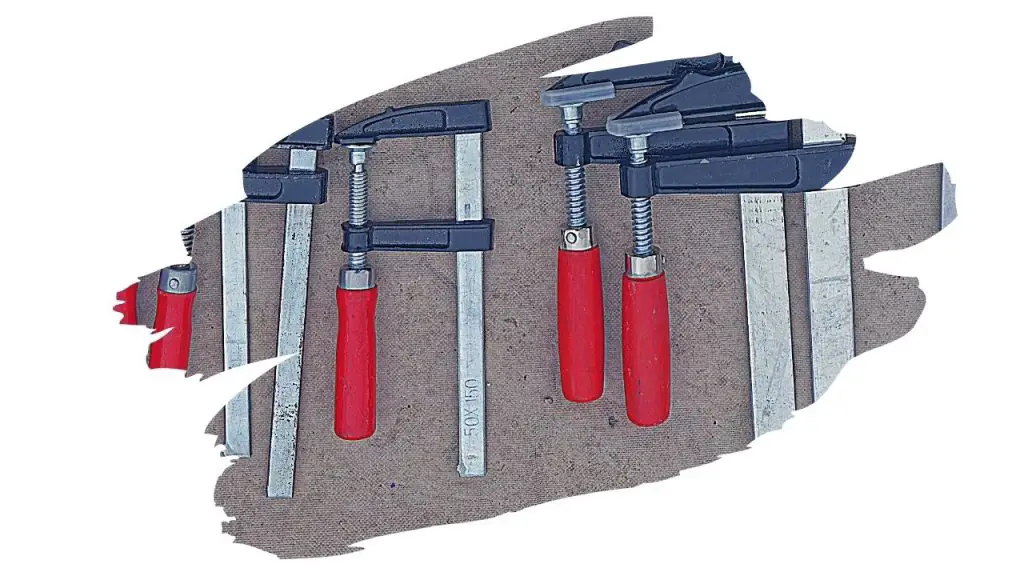 This post may contain affiliate links to products that we receive a commission for (at no additional cost to you). Learn more here.
What type of clamps do I need?
Bar Clamps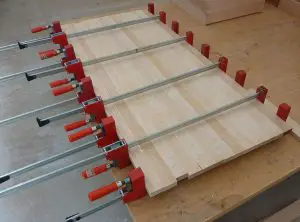 What is it?
These crank-adjustable clamps, (also known as F-clamps due to its 'F' letter shaping), are great at securing heavy pieces parallel and in place.
Available in a range of sizes (their size being determined by the distance of the clamps 'jaws'), they are useful for just about any holding job.
How Many Do You Need?
Get your hands on 4 bar clamps to be on the safe side – more is better (but not necessary).
Strap Clamp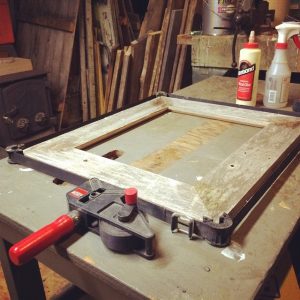 What is it?
Sometimes known by the name of 'Band Clamps', these tools – made from flexible polyester straps – can be easily looped around an object to hold it firmly in place.
The flexible strap means that this will be your go-to-clamp whenever you have awkwardly shaped objects to hold in place.
How Many Of These Do I Need?
You will only need the one strap clamp, especially if you get one that comes with a long-length strap.
Pipe Clamps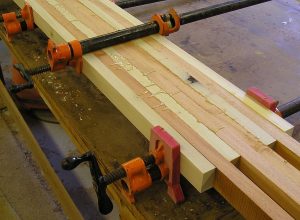 What is it?
They are what they say in their title; a specifically designed clamp for holding round piping in place.
How Many Of These Do I Need?
You won't go too far wrong by stocking up on a set of 4 pipe clamps.
What are the best clamps for woodworking?
Best Bar Clamp
Bessey LM2.004 3m General Purpose Clamp
Bessey clamps are industry leaders when it comes to bar clamps.
And with this particular all-star clamp, you can get incredible grip – as these clamps can apply up to 330lbs of clamping pressure.
They are good quality, affordably priced, and should easily be your first clamp purchase.
Check out the latest prices over on Amazon.
Best Strap Clamp
Stanley ST083100 Band-Clamp 4.5m/15ft
This strap clamp has been designed and built for toughness, and at first glance you can instantly tell that this is durable tool.
Between its 15-foot long reinforced nylon strap, and its high quality triangular shaped handle, this is a clamp created specifically to take on intense levels of force.
Check out the latest prices over on Amazon.
Best Pipe Clamp
Bessey BPC-H34 3/4″, H-Style, Pipe Clamp Set
Its Bessey to the rescue again with an excellent set of pipe clamps.
These clamps can sit easily atop any work bench, and stay stable, without taking up too much room.
And the rubber material of the clamps padding – the part holding the piping in place – will keep your projects surface from coming to any harm.
Check out the latest prices over on Amazon.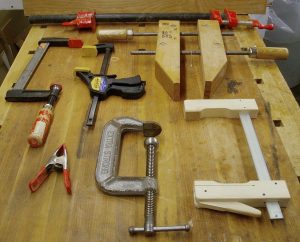 What can I use if I don't have wood clamps?
No clamps? No problem!
With a bit of know-how, you can substitute store-bought clamps for some crafty DIY alternatives.
How To Make DIY Woodworking Clamps
How Do You Make Homemade Bar Clamps?
You can make these hardwood clamps using the tools you already have in your workshop.
Watch Izzy Swans video tutorial below to learn more:
How Do You Make Homemade Strap Clamps?
A possible alternative to the Stanley Band-Clamp is a home-fashioned hardwood strap clamp.
But note, making one of these could be a bit of a tricky task in and of itself. Yet it could still be a worthwhile project to take on.
To learn how to make your own home-made band clamp, watch the video below and let John Heisz guide you through the process:
How Do You Make Homemade Pipe Clamps?
Do you have an old TV antenna laying around in the garage? If you do, then you are in luck!
You can use parts from it to construct a self-build pipe clamp for next to nothing.
Check out the 'Make Cool DIY Stuff' tutorial video below to learn how:
When you first start kitting out your workshop, you don't need to rush out and get every single clamp on the market.
Final Thoughts
You only need a few of the most useful high-grip clamps to start with. And so, at least for now, just turn a blind eye to all the rest of those specialty clamps.