A bare-door just doesn't feel right at Halloween. Why? Well, soon enough little kids, (and big kids alike), will be knocking on your door for candy treats.
On top of that, your party guests will be coming round any day now! And you know they will notice if your front porch looks a little emptier this year.
So what are you to do when you feel all out of ghoulish-display ideas?
That's what we're here for! You see, to help you out, we've found 7 fiendishly clever wooden signs you can make and hang up this Halloween.
All you need to do is to keep reading to find out more… Happy Halloween!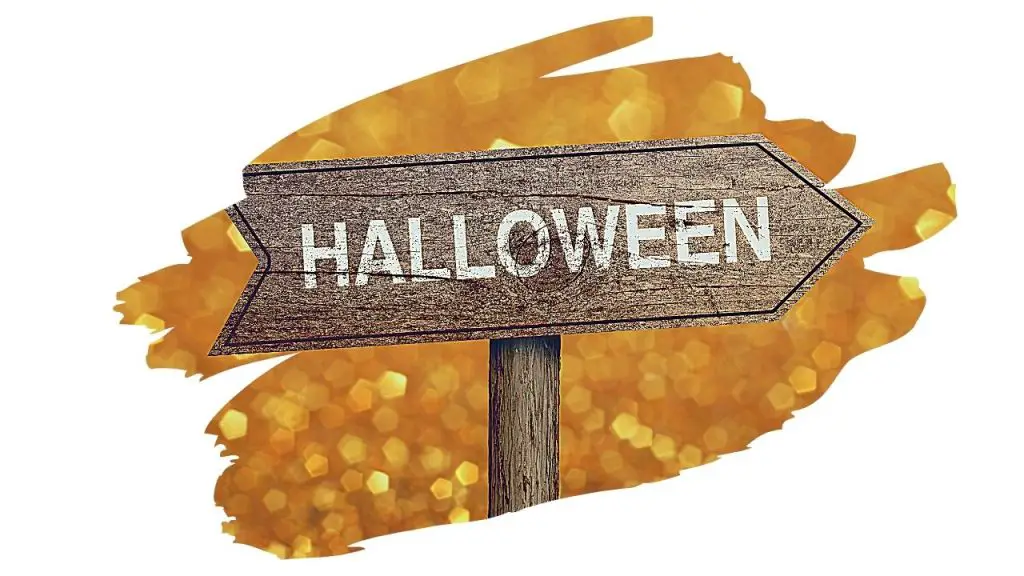 This post may contain affiliate links to products that we receive a commission for (at no additional cost to you). Learn more here.
1 Reversible Halloween Porch Pallet Sign
This double-sided pallet sign will make Halloween twice as nice this year! Simply use any old picket fence wood – or you can substitute reclaimed wood as an alternative.
As a woodwork craft project, it is super easy to take on. The only tool you'll need is a Brad Nailer.
One of the best Brad Nailer tools on the market is the very affordable WEN 61721 18-Gauge Pneumatic Brad Nailer.
Check out the latest prices for this Brad Nailer over on Amazon.com
2 DIY Zombie Signs
These signs are ideal for posting up in the yard and adding some much loved spookiness to your house display.
Its going to take a lot of plywood to make these enormous 7 foot tall props. But as you can clearly tell… it'll be worth it!
What type of wood is usually used for welcome signs?
If you are making a simple Halloween display, then any wood you can get your hands on can be used. This is especially true if you only plan on putting up the display for a day or two.
However, if you want to put up your display a few weeks ahead of time – or you are worried about a rainy forecast – then you are going to need wood that has a bit more durability about it.
Typically farmhouse-style wooden front porch welcome signs are made from durable hardwoods such as Redwood, Oak, and White Pine.
However, the most important part of keeping wood protected from the elements is the quality of the sealant.
Most lumber will succumb to rain and humidity if you don't give it a full coat of finish or sealant.
For outdoor signs, using a wood finish oil like Linseed or Danish Oil will get the job done. These oils seep deep into the wood, which gives it a water-resistant layer of protection from the elements.
3 Old West Aged Door Sign
If your Halloween party theme this year has a touch of the Wild West to it, then this old-time wooden sign is going to be right up your alley.
4 Halloween BOO Sign
Give your guests a fright with these 3 quick and easy Halloween wall signs.
They would be awesome as indoor party ornaments, or as part of an outdoor porch display.
5 Hocus Pocus Wood Framed Sign
Learn how to turn a piece of 4×4 plywood into this stand-out Hocus-Pocus inspired banner.
You can even swap out the Hocus Pocus lettering for any banner of your choice. Or you could just paint on your own lettering.
What kind of paint should I use on wood signs?
If you want to paint an outdoor wooden sign, then you are going to need a paint that is tough enough to not need an extra top coat.
Apply a hard-wearing paint such as Latex Paint, (a water-based paint made from acrylic resin). Thanks to the addition of enamel in Latex paint, this type of paint finish is less porous (i.e. less likely to let water through), and much tougher than other kinds of paint.
6 Glow In The Dark Halloween Sign
Come All Hallows Eve, after the sun sets, you can use a few of these wickedly-good pumpkins to light the way for trick n' treaters.
You don't need to stop there. You can add this Green Glow effect to any of your Halloween decorations.
To learn how, and to read the full step-by-step tutorial, visit ArtnGlow's quick guide by clicking here.
7 Halloween DIY Wood Slice Pumpkins
Get ready to take a big bite out of these pumpkin patch ornaments. They'd be perfect as outdoor props, or as miniature indoor wall mountable signs.
Now, you can choose to simply purchase a pack of premade wood slices. Or, you can save money by opting to make them yourself.
Wood slices, (sometimes called tree cookies), aren't difficult to craft up in your workshop.
However, you will need to be patient and get ready to wait it out – allowing each slice to fully dry before you start to work on them.
For a quick how-to on making Wood Slices, we recommend you click here to check out 'SawsHubs' video tutorial to making these popular items.