Did you know that there is a really easy way to make highly contrasting oak grain look a bit more subtle?
How do you go about reducing oak grain contrast?
You can reduce oak grain contrast by filling in the grain with wood filler. You will need to sand down the filler between each coat (usually just 1 or 2 coats will do). And the type of filler you use on wood furniture matters too. For example, you would use different wood fillers depending on if the furniture is for indoor or outdoor use.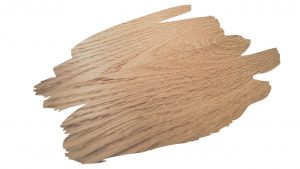 This post may contain affiliate links to products that we receive a commission for (at no additional cost to you). Learn more here.
How Do You Hide Wood Grain On Oak Cabinets?
Short answer? You fill them in with wood grain filler.
The longer answer, on the other hand, will depend on how your oak furniture piece or craft will be used;
Solvent-Based Wood Fillers: Made to withstand the elements, you would use this filler on wood that will be exposed to weather. Although you can use this filler for indoor use too.
Water-Based Wood Fillers: This tends to be the most popular wood filler for woodworking hobbyist. Especially as it is best used on wood meant for indoor use (such as Oak Cabinets). This type of filler takes on stain fairly well to boot, and it dries more quickly too.
Stainable Wood Fillers: These are wood fillers that allow you to add a stain coat on top of it.
Related Post: Can You Use Teak Oil On Oak? (Or Is There A Better Option?)
What Is The Best Wood Grain Filler For Oak Wood?
Bondo Wood Filler is a solvent-based filler that is easy to apply, cheap to buy, and fast to dry.
You don't need multiple coats of this paste if you want to really pack out the grain. Just one or two coats is enough. Although you may need a third coat on very deep grained oak wood cabinets.
Check out the latest prices for Bondo Wood Filler at Amazon.
Alternatively, if you plan on using a water-based stain on your oak wood project, then an oil-based filler won't cut it.
Instead, you will need to use a quality water based grain filler such as the one manufactured by Aqua Coat.
Water-Based Wood & Grain Filler by Aqua Coat is quick drying and sandable – and it won't crack under pressure either.
Check out the latest prices for Aqua Coat Grain Filler at Amazon.
How Do You Fill Wood Grain In Oak?
There are three steps to filling in wood grain;
Sand The Wood: Using a medium grit 150 grit sandpaper, sand down the surface of the oak manually. As you sand, move with the grain, not against it. Once you've smoothed out the oak, use a tack cloth to clean off the dust and grit from the surface.
Fill In The Wood Grain: Using a plastic spreader, apply the filler onto the wood. Spread it with the grain, followed immediately after by spreading it across the grain. Once done, let it dry.
What is a plastic spreader? These are credit card sized pieces of plastic that allow you to easily spread filler, putty, or resin along a piece of wood.
Sand The Wood: Allow the grain filler to fully dry into the pores of the oak. This should take a little over 1 hour. Afterwards, grab that 150 grit sand paper again, and sand down the surface of the board.
You will need to repeat this application process, at least one more time, if you want to get a really even surface.
If you need a visual guide to applying wood grain filler, take a look at Rockler's quick tutorial below;
Final Thoughts
Oak is beautiful to look at, but sometimes we want to tone down the stark contrasts of its deep grain.
So, before you start staining, consider doing the following;
Use wood filler to pack out the grain of oak.
If you plan on staining the oak, (to help even out the grain color), then be sure you use a water-based wood filler product.
If you want to fill in the grain of an outdoor oak piece, you will need to use a solvent-based grain filler.