Its that time of year again, when Winter starts to snap at the heels of Fall, and everyone is hungry for candy corn.
Yep, its Halloween!
But, life has been a little bit hectic recently. And you've probably only just realized that you have a few days left to get those Halloween decorations up. So, what are you going to do?
Well, if you have some reclaimed wood, pallets, or plywood laying around, then you are in luck!
Why? Because we've gone and found 13 insanely simple wooden Halloween decorations that you can start making right now, (no matter what your budget might be).
Want to learn more? Just keep scrolling and get ready to make your last-minute Halloween display a spooky one to remember!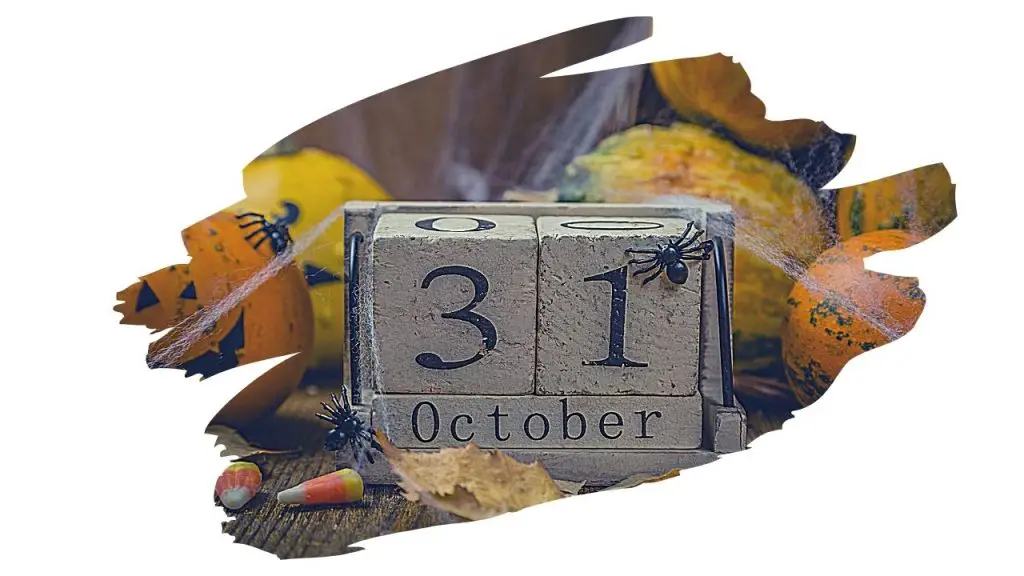 This post may contain affiliate links to products that we receive a commission for (at no additional cost to you). Learn more here.
1 Easy DIY Skeleton in a Coffin Tutorial
With just a few dollar store supplies, this easy unearthed skeleton decoration is incredibly quick and fun to make.
Okay, so sure, it is less of a wood craft, and more of a wood painting tutorial. But with a few acrylic paints, you can turn any small wooden coffin box into a scarily cool ornament.
You can get natural wood mini coffin boxes from any good all-purpose store for just a few bucks.
2 Halloween Wood Blocks
Turn wood blocks into ghostly fun by creating your own set of trick or treating blocks.
This is one of the easiest wood crafts you can make this Halloween, as all you need to do is cut into a 2×4 block of wood.
Once you have a single 11" piece, plus an additional three 3.5" pieces, you can get to work on them with stencil and paint.
3 Ghostly Carved Wood Halloween Decoration
DIYeasycrafts tutorial above shows you how to make a hair-raising wall decoration out of pine wood.
This project is more involved than the previous two, and you are going to need to use a few power tools (such as a jigsaw and angle grinder). But the end result is worth it!
When should I decorate my house for Halloween? This is a question that gets asked year after year. The answer, as a rule of thumb, is that decorating your home around 3-4 weeks before Halloween is pretty much the norm. However, you can start decorating a little earlier (from late September) if you have some pretty large decorations that need putting up and fixing into place.
4 Ghoulishly Clever Ghost Cutout Yard Stake
Put your Halloween spirit on public display this year with an incredibly huggable ghostly yard sign.
How you choose to decorate your own ghost yard sign is completely up to you, but it never hurts to add a few polka dots here and there.
5 Wood Bat Decoration
Hang up a few of these low-effort vampire bats, and the party will feel at least 10% more goth.
These are the perfect decoration if you have any leftover plywood laying around.
Plywood can be a bit tricky to properly sand and smooth out. That is why we have an entire article teaching you how to sand plywood without it tearing apart.
You can learn more by clicking here: Beginners Guide To Sanding Plywood (What You Need To Know).
6 Cricut DIY 'Boo' Sign Craft
You can do so much with a Cricut maker. Cutting out any design into paper, card, fabric, and even leather, is a breeze with this useful piece of kit.
Best of all, a cricut maker can cut through thin wood boards too, making small craft projects extra easy to work on.
So if you have a why not give CraftKlatch's Boo sign a go and let your imagination fly.
And if you don't have a Cricut yet, why not check out this popular home crafting tool for yourself. Simply click here to learn more about Cricut and their range of cutting plotters and machines.
7 Frankenstein Carved Wooden Face
This is another super tutorial from DIYeasycrafts teaching you all you need to know about making a stunning replication of the Victor's creation!
What Is The Name of Frankenstein's Monster? In the book, 'Frankenstein', the creature described in Mary Shelley's timeless book is actually called Adam (or at least, that is what he called himself). It was Adam's creator who was named Frankenstein, or to give him his full name, Victor Frankenstein.
8 Spooktastic Halloween Pallet Wood Lantern
Turn reclaimed pallet wood into an eerie home-spun lantern.
You could create a few of these and place them along the front porch to give your yard a ghastly glow come All Hallows Eve!
9 Repurposed Wood Halloween Picket Fence Decoration
https://www.youtube.com/watch?v=KM1FJ-oI-0g
No Halloween display is complete without a least some sinister looking fence work around those pumpkin patches.
And thanks to 'Simple Cheap And Easy DIY's guide above, your display won't be left looking bare!
The video above teaches you how to decorate the fence to give it that rickety 'well-lived' look. However, if you want to learn how to create a tiny farmhouse-style wooden fence, 'Simple Cheap And Easy DIYs' has you covered. Click here to watch their full fence display tutorial.
10 Pallet Wood Jack O' Lantern
This craft requires minimal tools, but once you make this decoration it will have a maximum impact on your display.
Made from plain pallet wood, (that has been tinted with a rich burnished finish), these lanterns would be perfect for adding after-dusk mood lighting to your outdoor display.
11 Halloween Silhouette Cat
Black cats and Halloween go together like chalk and cheese. And that is why you simply have to check out this easy-to-make silhouette idea.
In this tutorial you will learn how to turn any small silhouetted picture, (that you come across on Pinterest or Instagram), into a large wall-mounted piece.
12 Halloween Candy Corn Drink Coasters
Once the party gets going, the drinks will be flowing, which means you are going to need to have a few extra coasters laying around.
Warning! Make sure your guests know that these plywood candy corn coasters are ONLY meant for setting drinks on, (even though they look good enough to eat!).
You might be tempted to use a router to cut out these coaster shapes. Plywood can be awkward to work on with a router. So we've gone and covered everything you need to know about it right here on The Woodwork Place. Click here to read 'Can You Use A Router On Plywood? (+ 5 Clever Router Tricks!)'.
13 Witches Spell Book
Turn old leather and reclaimed wood into a spell-binding prop that no-one will be able to take their eye's off of!
Thanks to Tim Sway's tutorial above, making this enchanting spell book showpiece will be oh-so-simple.