There's nothing more satisfying than using a router to cut extravagant projects or trim small grooves.
But can this hardworking power tool also cut through thin plywood (without damaging it)?
You can use a router on plywood, but with a couple caveats;
1 – The plywood has been edge banded:
Edge banding is when you reinforce plywood sheets with a more durable type of manufactured wood, such as MDF or Particle Board.
2 – There are no voids in the plywood:
Voids are those big naturally occurring holes that appear across plywood sheets.
Now, in this article, we are going to cover all you need to know to about using a router on plywood. And we're also going to give you a few extra tips and tricks that you can use the next time you switch on that router!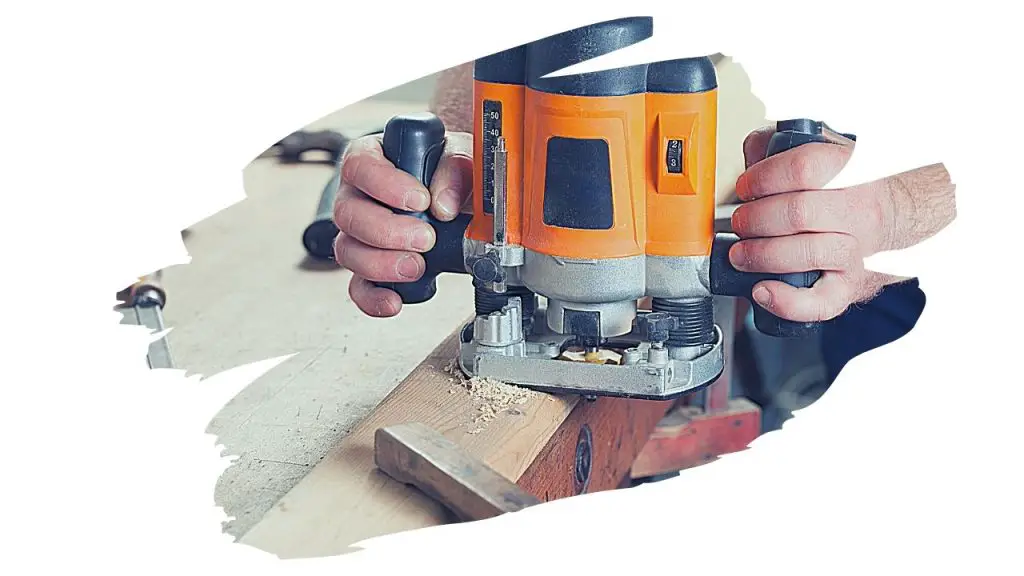 This post may contain affiliate links to products that we receive a commission for (at no additional cost to you). Learn more here.
How Can You Tell If Plywood Has Voids?
You can tell plywood has voids if you notice sizable bubbles along the breadth-side of the wood. If you notice any gaps, then that's a void right there.
Check out the Woodworkers Journal video below to see if you need to fill in voids on your plywood edges:
If your plywood stock is good to go, then there's nothing stopping you from putting that router to work.
What Can You Do With A Router?
More often than not a router will be used primarily for hollowing out a section of wood, plastic, or even metal sheeting.
However, you can use it for fine cuts such as creating edges, grooves and decorative patterns.
How Do You Finish The Edge Of Plywood?
An unfinished plywood edge isn't the prettiest thing to look at.
You pretty much have 3 different options here. You can either coat, cover or fill in the edges.
1 – Coat The Edges | Paint Over Them
Hide the layers of ply behind a good coat of paint. This seems like the easiest go-to option for finishing edges.
However, it is tricky getting the paint to really fill and mask the exposed wood layers.
2 – Cover The Edges | Edge Banding
This is my least favorite option, but that is more a personal preference than a practical one. I don't really like how edge banding looks, but its quick and easy. And it does get the job done.
You can make some really easy plywood edge bands by following along with Shaun Boyd's tutorial below:
3 – Fill In The Edges | Use Putty To Cover Those Cracks
This would be my finish of choice. Especially when putty both masks and smooths out edges – and it can even be used to seal in any problem voids too.
5 Of My Favorite Router Tips And Tricks!
1 – Make A Router Table For Less Than $20
The right table will make it much easier for you to work the router so that you can cut at the right angles.
But a good router table can set you back some $200 or more.
So if you want a router table for a fraction of the cost, watch this video, and save your money.
2 – Make A Bench-Top Router Table
This surface top table will give you the flexibility you need to make those next-to-impossible grooves and cuts.
Now, you could jump online and fork over a lot of cash for a brand new router table. Or you can fashion one up yourself by following this video tutorial.
3 – Make An Easy DIY Adjustable Router-Planer
If you need to flatten out a piece of wood, you don't always need access to a planer to do it.
Instead, your router (and a cleverly constructed jig) can be a great alternative.
Watch this video and follow this fool-proof tutorial on how to make your own super simple Router Planer.
4 – Make A Router Edge Guide
Sometimes simply relying on a few clamps and a sturdy router table isn't enough for you to keep those edges straight.
Every now and then, you are going to want to use a Router Edge Guide on big cumbersome pieces, like cabinets and dressers.
In which case, piecing together your own custom guide is an easy path to getting those perfect wood edges.
5 – Make A DIY Round Table From Plywood (for less than $60!)
Okay, so this is not so much a router tip, as it is a plywood-inspired router-centric woodwork project.
But it is so much fun to try! And these custom round tables could also be a great item to sell online.
I wrote an article all about making and selling woodwork crafts online. You can read the full post by clicking here: 12 Profitable Woodworking Things To Make And Sell From Home
Some Final Thoughts
As long as you prep the plywood by filling in those voids beforehand, you should have few problems using a router on this lightweight manufactured wood.
Want to learn 9 great benefits of manufactured wood? Click here to check out the article: Just What Is Manufactured Wood Anyway?
Also, do you plan on doing a lot of router work on plywood? Then you may start to notice your router bits getting dull quicker than usual.
This happens because the adhesive glue holding the layers of ply together (a glue otherwise known as phenol formaldehyde) will start to coat the router bit.
But so long as you regularly clean, sharpen and otherwise maintain your router bits, this shouldn't be a long-term problem.
Top Recommended Tools
Over here at The Woodwork Place, we know that woodworkers can never have enough tools. So here are our top 3 essential tools – you'll need these whenever you're using a router. You can check them out over on Amazon.
References
https://en.wikipedia.org/wiki/Edge_banding