So you have a knack for making handcrafted woodwork items, and now, you're ready to turn those crafts into cash.
Lucky for you, as a woodworking enthusiast, you have a hobby that can easily turn into a profitable side hustle.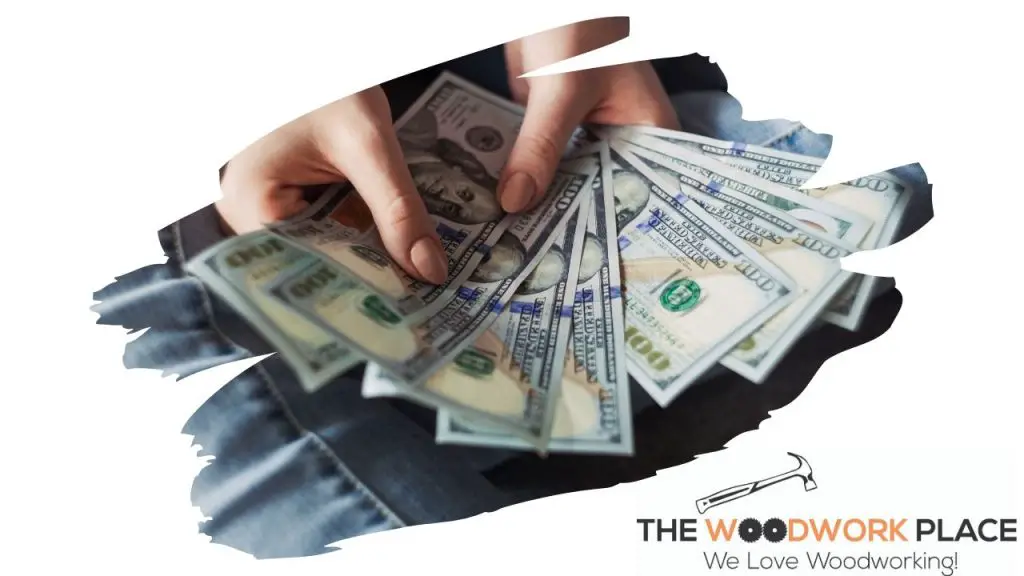 This post may contain affiliate links to products that we receive a commission for (at no additional cost to you). Learn more here.
What Can I Make Out Of Wood To Sell?
The answer to this is pretty simple… you can sell any kind of wood craft that people are already buying.
Sounds simple doesn't it! But so many people overlook this first step when they initially start thinking about selling their handcrafted items.
Yet, by taking a little time to research the market, you can skip over the sales pitch by giving your future customers exactly what they want.
"But!" I hear you ask, "What do customers want? And where on earth are people buying these things!?"
Well, never fear, because we here at The Woodwork Place have got your back!
We've gone and done the research for you. And along the way we've found the woodworking projects, plans, and sales platforms to help you become a profitable side-hustling woodworker.
Can You Really Make Money From Woodworking?
Yes, absolutely you can. Woodworkers around the world make a career of it.
But I am going to assume that in this instance, you are just looking for a way to earn some extra cash on the side.
In which case the answer remains, YES.
Because as a small independent crafts-person, you can focus on selling custom one-off pieces such as gift items and home decor accessories.
Now there are plenty of websites that offer a way for you to sell your wares to customers.
However, it makes sense to focus on the few websites that can give you easy access to a very large consumer audience.
That is why we recommend you only focus on listing your products on just three top sales platforms.
Why? Well, because these few large websites get tonnes of visitors each and every day. Which will give your woodcraft listing every opportunity to get in front of lots of potential customers… and make money!
What is the best place to sell handmade items?
As you scroll down you will find our top 3 recommended seller platforms for woodworkers.
For each platform we've gathered a list of the top 4 most profitable woodwork items on the website. Plus we've even included a handy woodwork tutorial for each and every individual item.
Enjoy!
Amazon is an absolute behemoth of an online store!
Each and every single month, the website receives 2 billion visitors a month making it the single most visited online store in the United States.
Still, its handmade marketplace 'Handmade at Amazon' is a relative newbie to the online craft store field.
Even so, the sheer size of its potential audience makes it a very attractive marketplace for artisan woodcraft's.

What Handmade Wood Items Sell Best on Amazon?
Chopping Boards
A personalized custom-made chopping board is a steady seller in the Home Decor section.
To learn how to make a custom chopping board, check out the video below by Fix This Build That.
Arm Chair Tray
This easy build arm table is just right for keeping cups and glasses level – and off to the side.
To craft up a designer wooden sofa arm tray like this one, check out the video below by Life X4:
Vegetable Food Storage Rack
Every kitchen needs one of these necessary storage spaces.
So why not make one yourself by following the step-by-step guide from April Wilkerson below:
Beer Bottle Opener
A custom bottle opener – personalized with a name engraving – is also a great gift for any occasion.
These are easier to make than they look. Have a look at Got It Made's video to learn how:
This online community – beloved by artisans everywhere – has become THE place to go to if you want to buy a piece that is unique and original.
You can think of Etsy as being sort of like an online craft fair – that happens to be open worldwide 24/7.
With 2.5 million sellers making craft items for 39+ million active buyers around the world, this marketplace should be your first port of call when listing your woodwork projects for sale.
Small Woodworking Project Ideas That Sell On Etsy
Coat of Arms
A hand-carved family shield makes for a stunning wall piece.
Check out Craft Forests DIY guide to making a family crest below:
Scrabble Tiles
These wall art scrabble tiles are the perfect gift for wordsmiths.
Plus, they are incredibly simple to craft! Check out DIY Builds to find out more:
String Art
Turn wood pallets into fine art by adding a pinch of string-flared genius to the mix.
Learn how to make these wonderful pieces by checking out Crafts with Ellen's DIY guide:
Custom Engraved Screwdriver
Customize the wooden handles by engraving a name, a favorite quote, or an important date into it.
This is a wood craft project that can get a little tricky, so only tackle this is you are a confident woodworker. Learn more with A Glimpse Inside's guide:
Good old eBay. Established back in 1995, it has stood the test of time – over 25 years! And it is seen by many as being the world's online auction house.
Along the way, despite the rise of both Etsy and Amazon as its competitors, eBay still remains a dependable sales channel for online merchants of all stripes.
And is it any wonder? With over 174 Million active buyers, this household name can give you an easy-to-start store front for your wood craft products.
Top Wood Projects That Sell On eBay
Wall Plaques
Hanging on a bedroom door, or as a welcome sign, these are a staple seller on this marketplace.
Learn how you too can craft one of these rustic door signs by checking out this Thrift Diving tutorial:
Keyrings
Quick and simple to construct, these keyrings can be made from any number of different hardwood timbers.
Create these fun items by following along with MadeCraft:
Vases
If you are already a dab hand at the skill of wood-turning, (and your workshop has all of the right tools to hand, then why not make beautifully carved vases.
Learn how to make a home made vase with DIY Builds:
Candle Wicks
If a wood-turned vase doesn't inspire you, how about making some custom Candle Holders.
Whether you opt for a lavish design or a more rustic style, they still make for an eye catching piece.
Want a simple how-to guide to making these stunning centerpieces? Then check out Silverline Tools video guide:
Conclusion
And there you have it! You now know precisely which bestselling woodworking projects you can get started on today.
Plus, you also know exactly where you should list each item for maximum exposure and sales.
So what are you waiting for? Have at it and good luck!