Keeping a guitar fretboard well conditioned is important. If you were to let that fretboard dry out, it can begin to crack and split… causing those frets to shift out of place.
And most types of timber will dry and crack – losing all of their natural moisture – if that wood is left unsealed and unfinished. Even certain oily guitar fretboards, (such as Rosewood and Ebony), can start to dry out in desert-like climates.
So, just as with any unsealed wooden surface, do you need to oil that guitar fretboard very often?
Well, here's the thing; if an unfinished guitar neck is made from a very densely oily type of wood, (just like Rosewood and Ebony), then it rarely needs regular conditioning.
These oily woods are already packed to the gills with their own natural conditioning oils – enough so that these particular types of timber won't dry out for years.
Also, if that guitar neck has already been finished with a drying oil (say for example, it has been coated with a Tru-oil or Tung oil finish), then it doesn't need a conditioning oil treatment either.
Drying oils form a hard water-repellent resin on the surface of wood. So, if you were to apply a bit of fretboard oil, the fretboard oil won't be able to soak into the wood anyway.
Related Post: Tru-oil Vs Tung Oil: Which One's Better For Your Guitar?
Which brings us around to Teak oil.
Teak oil is a drying oil, just like Tung oil and Linseed oil. And it soaks into wood, leaving behind a hard resin film on the surface.
Originally made to be a penetrating oil finish for Teak wood, Teak oil can also be used on other types of lumber too.
But despite its name, teak oil doesn't actually contain any kind of teak oil from Teak tree lumber. Instead, it is made from a blend of linseed oil, varnish and mineral spirits.
Related Post: Teak Oil Not Drying? (What You Need To Know)
But, should you use teak oil on a guitar neck?
If you want to condition an unfinished guitar fretboard, then don't use teak oil. That is because teak oil will add a hard durable coat atop that fretboard.
If you are looking for an oil to seal and finish a guitar neck, then you can use teak oil. You will need to apply very thin coats of it though, otherwise it can build up a little too thickly on the surface of wood.
Related Post: The Top 3 Tru-oil Alternatives That'll Give Your Guitar A Fine Finish
But, Teak oil isn't the best option for finishing a guitar neck. And if you want to rehydrate an unfinished fretboard, teak oil should be absolutely avoided.
In this article we are going to cover what the best oil finish is for your guitar. We will also dive into what type of oil you should really be using to rehydrate a guitar neck. So, let's get started…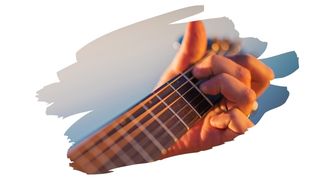 This post may contain affiliate links to products that we receive a commission for (at no additional cost to you). Learn more here.
First Off, Should You Oil A Guitar Neck?
If that guitar neck is made from a non-oily wood, (say a maple fretboard for example), then it's likely already finished and sealed.
Related Post: Can Tru-Oil Really Finish And Protect Your Maple Fretboard?
If a wooden surface has been finished, the wood doesn't need conditioning. The only time you would apply any oil on a finished guitar neck is if that oil finish needs a touch up (i.e. it has begun to wear off from use).
Oily wood fretboards (like Rosewood fretboards) have enough oil naturally in them, that adding more is simply not needed.
These wood types will struggle to absorb much fretboard oil anyway, (since their wood pores are chock full of natural oils already). You'll just end up over oiling that fretboard.
Can You Really Over Oil A Fretboard?
Yes, you can. And the last thing you want is to overload wood with oil. If that oil can't soak into wood, it will stay on the surface.
In the case of a drying oil like Linseed oil, that means it will leave behind too much build-up.
And in the case of a non-drying oil, like mineral oil, that means you'll have a sticky fretboard to play on.
What Is A Non-Drying Oil? Non-drying oils are penetrating oils that do not leave a hard resin film on the surface of wood. Instead, they soak into wood, coating wood fibers with oils – but they do not harden and cure.
And When Should You Oil A Guitar Neck?
If that guitar neck is unfinished, you should always be on the look out for any small cracks. Those cracks are a sign that the wood needs conditioning to rehydrate it.
Side Note: If you live in very hot environments, then wood – even Rosewood – can dry out in fairly quickly.
OK Then… How Do You Rehydrate A Fretboard?
By rubbing a small amount of mineral oil into it.
Mineral oil is a food-grade non-toxic product that's used to seal wood crafts such as butcher blocks and chopping boards.
This oil is non-drying, which means that it will rub right into that guitar neck – leaving little grease behind on the surface.
In fact, a lot of fretboard oil products are really just mineral oil with a few drops of lemon oil added to it. However, it is the mineral oil ingredient (not the lemon oil) that does the heavy lifting when it comes to rehydrating that fretboard.
You can get 100% food grade mineral oil from any local store. Or you can check out Bayes High-Performance Food Grade Mineral Oil. It can be used to condition unfinished fretboards. And it doesn't contain any additives.
Check out the latest prices for this mineral oil product over on Amazon.com
What Kind Of Oil Do You Use On A Guitar Neck To Rehydrate It? Use 100% food grade mineral oil. And apply it stingily, the last thing you want to do is to over oil the neck.
Can You Use Teak Oil On A Guitar Fretboard?
If you want to rehydrate a guitar fretboard, then no, you should not. That is not what teak oil is designed for.
If you want to seal and finish a bare guitar neck, then sure, you can apply this drying oil finish to it. However, there are better options. Here's why…
…Teak oil is linseed oil blended with varnish and mineral spirits. But, teak oil isn't a natural oil, nor does it come mixed to a set specific recipe.
Which means that when you grab a teak oil product off the shelf, you never really know what you are going to get.
So, To Sum Up, What Is The Best Oil Finish For A Guitar Neck?
Ditch teak oil and use something better suited for your guitar. And a natural oil, (not teak oil), will be a better option for your instrument.
Tung oil, (specifically Pure Tung oil), and Linseed oil are fantastic natural oil finishes. Either one of these will go great on your guitar.
Another great alternative to Teak oil is Tru-oil. This easy-to-apply oil product is made from a specific linseed-based recipe. And a few coats of this stuff will dry into a fantastic gloss in less than half the time of linseed/Tung oil.
We go into a lot more detail comparing Tru oil to Linseed oil in our post here: Tru-oil vs Linseed Oil: The Top 5 Things You All Wanted To Know