What makes Tru-oil so special isn't just the glow that it gives to wooden surfaces.
It's also the way this finish is so incredibly easy to apply, building up more of its film on the surface. As well as the stand-out shine it leaves behind with it's trademark high gloss finish.
But, despite its popularity, this special oil-blend product isn't always the easiest thing to find at a local hardware store.
So, if you are in the market for a Tru-oil finish – but can't buy it – what other options do you have?
Well, keep reading to discover the three best alternatives that'll give your guitar a fantastic finish…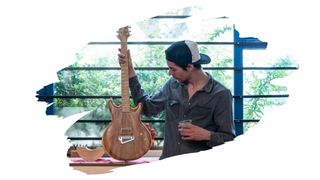 This post may contain affiliate links to products that we receive a commission for (at no additional cost to you). Learn more here.
First Off, What Do We Want From A Tru-oil Alternative?
Okay, so here's the thing… Tru-oil has three big advantages as a finishing choice;
Drying Time: It hardens and cures incredibly quickly. Much faster than other natural oil finishes.
Quick Application: This stuff goes on smooth as silk. No need for any sanding between coats of Tru-oil.
Shiny Appearance: It really intensifies the look of wood grain.
Now, here's the thing… any honest-to-goodness Tru-oil alternative simply won't come with all three of these advantages.
Either they will take longer to dry than Tru-oil, or they leave behind a less shiny finish. Or, they require more elbow grease and work when it comes to applying them onto timber.
But, so long as you know what you are in for, these other finishes should still give your guitar a good end result all the same.
Is Tru-oil A Drying Oil? Yes it is. This finish will dry in as little as 2 hours, turning from a liquid into a film that is solid enough to take on another coat.
Which 3 Finishes Are Comparable To Tru-oil?
1). Linseed Oil
Linseed oil is a natural oil finish that can be hand-rubbed into lumber, giving it a warm amber glow.
It works best by soaking into wood, sinking in much deeper than Tru-oil, and does most of its building up underneath the surface.
But Isn't Tru-oil Just Linseed Oil?
Tru-oil's ingredients contain Linseed oil, but they aren't one and the same product.
Linseed oil is a thick viscous substance that's been crushed out of Flaxseed. While Tru-oil blends Linseed oil with other ingredients such as mineral paint thinners and varnish.
Those additional ingredients are why Tru-oil is a much thinner and runnier substance than Linseed oil.
So, What Is The Real Difference Between Tru-oil And Linseed Oil?
Basically, time. Or, to be more specific, drying time. Don't be surprised if you're sat around waiting days for raw Linseed oil to dry in-between coats.
Even the fast drying version of Linseed oil takes forever.
Boiled Linseed oil, (also referred to as BLO), is essentially raw Linseed oil that has been put through a superheated chemical process. This process improves the drying time of Linseed oil by a lot. Whereas Linseed oil can take 3+ days to dry, BLO can take just 24 hours to do the same.
But those drying times are incredibly lengthy when we put it up against Tru-oils mere 2-4 hour waiting time.
Why You Should Use Linseed Oil: It leaves behind an amber hue similar to that of Tru-oil. And the protection it gives much more durable than Tru-oil too. But… be patient, because there aren't that many things you can do to help speed up drying (other than to wait).
We actually dive deep into comparing Tru-oil vs Linseed oil right here on The Woodwork Place. You can learn more by checking out our article: Tru-oil vs Linseed Oil: The Top 5 Things You All Wanted To Know
2). Tung Oil
Tung oil is another natural finishing option that has long been used to seal wood grain.
This transparent drying oil – in its pure form – does not discolor wood. Instead, it will give you all of the benefits of Linseed oil finishes, but without all of that yellowing with age.
Are Tru Oil And Tung Oil Pretty Much The Same Thing?
These two finishes are very different. Beyond the fact that Tung oil is a natural oil, (taken from Tung Tree nuts), Tung oil doesn't leave behind a glossy finish.
Instead, Tung cures into a more satin (almost matte) coat that doesn't shine the way Tru-oil does.
Also, Tung oils drying time is takes about as long as Linseed oil to dry – anywhere from 24 to 72 hours between coats.
However, you can speed up this drying process with a few tips and tricks, which we cover more about in our post: Tung Oil Not Drying? 3 Simple Ways To Fix It
Related Post: Tru-oil Vs Tung Oil: Which One's Better For Your Guitar?
Why You Should Use Tung Oil: If you want a more durable finish, that won't darken wood, then Tung oil will give it to you. And as an oil finish that works by penetrating wood, it will do a much better job than Tru-oil when it comes down to protecting wood grain. But… this is another slow drying oil finish. And, if you have your heart set on a shiny finish, then Tung oil isn't the one for you.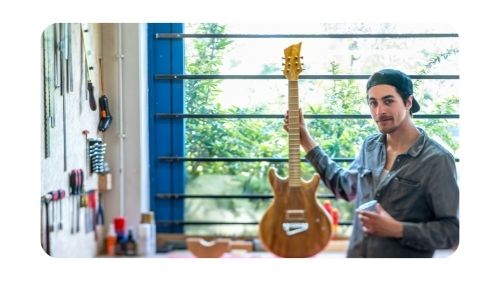 3). Wipe-on Poly
Wipe-on Poly is a fast drying alternative to regular polyurethane finishes.
This thinned out polyurethane product can be applied just as quickly as Tru-oil. And it dries as fast too – taking a mere 2-3 hours to dry between coats.
Now, regular everyday polyurethane finishes have a bit of a reputation of making wood looking like its been vacuum sealed in a thin plastic. And that poly-plasticity does nothing to enhance the wood grain underneath.
But, Wipe-on Poly finishes can be purchased in satin, semi-gloss, and high gloss. These glossy versions have additives designed to give polyurethane an almost oil-finish-like appearance to them.
Simply stick to an oil-based Wipe-on Poly, and you won't go too far wrong with this stuff.
Related Post: When Should You Use Tru-oil Vs Wipe-On Poly? [3 Key Comparisons]
Why You Should Use Wipe-On Poly: This stuff gives you the speed and the ease of a Tru-oil application. And it offers up a tough coat too… one that is much more scratch-proof and water-resistant than any oil finish. But… all the glossy additive in the world can't mask the plastic-looking end result. And, polyurethane won't soak into and nourish wood the way an oil finish does.