Plywood is durable, affordable, and incredibly versatile. However, one thing it isn't, is easily transportable.
Plywood is most commonly sold in 4 x 8 foot sheets. Which makes these sheets as wide, and as long, as a double bed.
So, moving plywood from the store to your home is going to be tricky without a trailer or a truck.
So what vehicles can fit sheets of 4×8 plywood?
Most short bed trucks can fit 4×8 plywood. Some minivans can also carry a single sheet of plywood inside. And, if you have a car, you can attach a utility trailer to it. The trailer can then haul multiple plywood sheets behind your vehicle.
Now buying a brand new truck – simply to carry plywood around in it – is a bit much. Most trucks might be able to handle those sheets, but your bank balance might have something else to say about it!
So, what else you can use to transport plywood?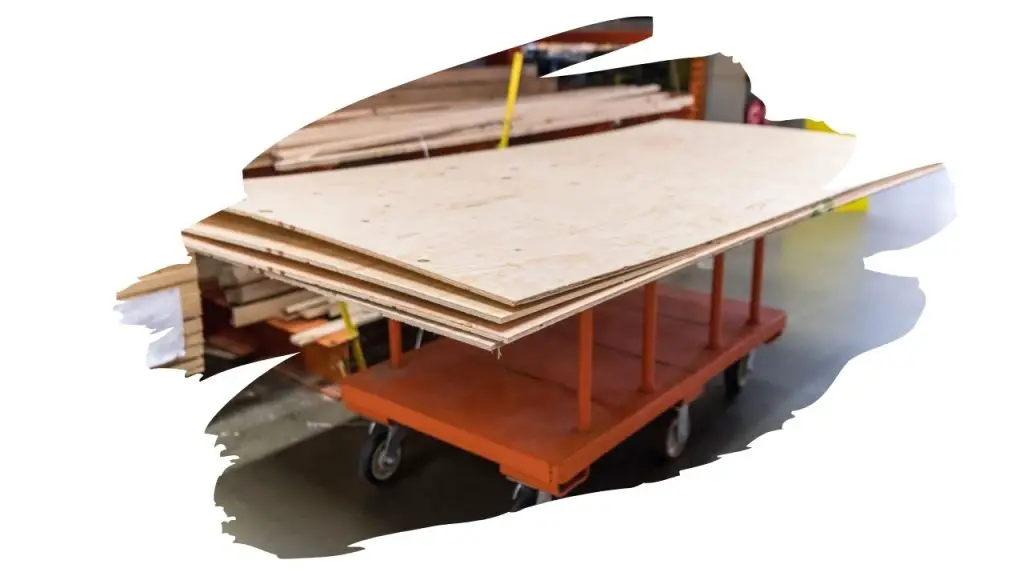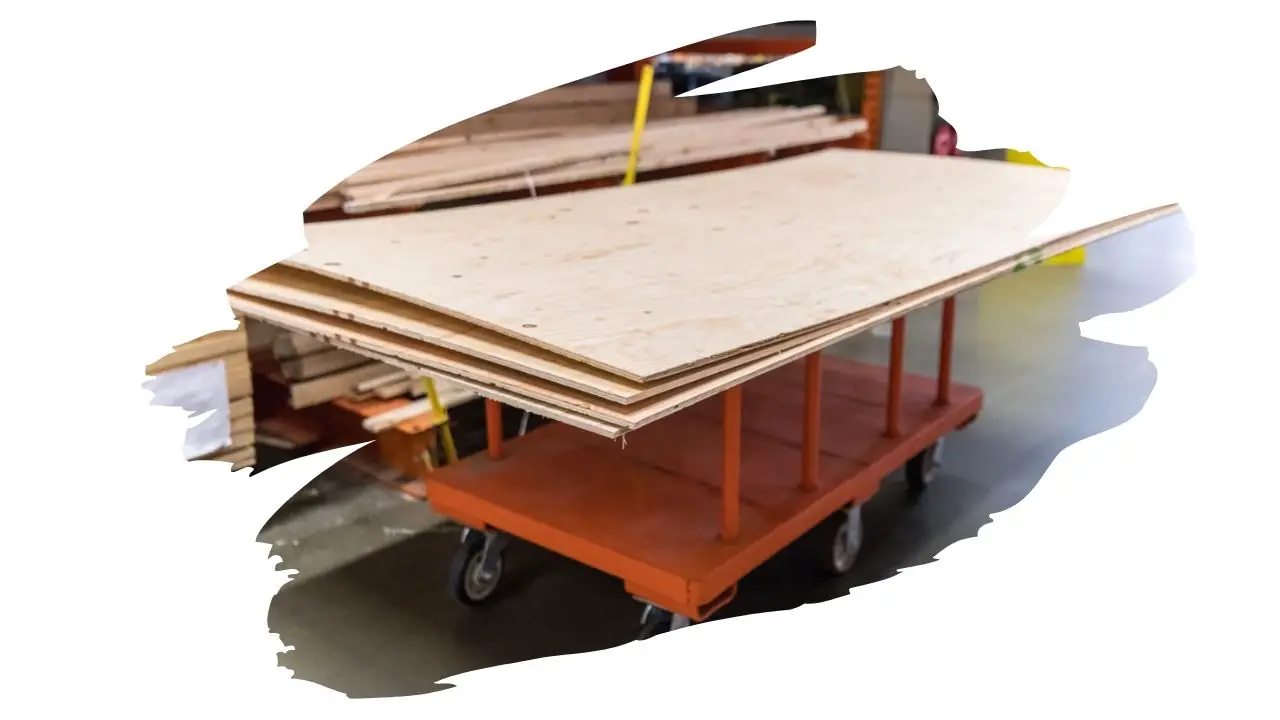 This post may contain affiliate links to products that we receive a commission for (at no additional cost to you). Learn more here.
What Vehicles Can Fit A 4×8 Sheet Of Plywood?
Trucks – Can Carry Multiple Sheets In The Truck Bed
This is the best vehicle for moving multiple 4×8 sheets of plywood. Even a short bed truck can fit a load of plywood… provided you secure it properly.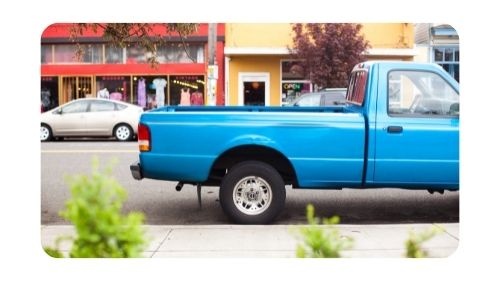 How Do You Transport Plywood In A Truck?
You do this by anchoring plywood to the truck bed using 'ratchet straps'. These are extra strong straps used to tie down cargo.
If you want a set of heavy duty ratchet straps, check out the ones on offer from Ohuhu. These straps can tie down loads of up to 500lbs, all whilst still being easily adjustable.
You can find the latest price for Ohuhu Ratchet Straps by checking them out on Amazon.com
And, for a quick visual guide to strapping down plywood, check out Bodie Pyndus' video below:
Minivans – Can Carry A Few Sheets Inside
A decent sized minivan can carry a single sheet of 4×8 inside of it. And that is only if the minivan has removable second row seats.
Also, minivans can't carry much plywood all at once. Depending on the space limitations of your particular vehicle, you'll only stack 2 or 3 sheets at best.
Can A Honda Pilot Carry 4×8 Plywood? Not really. You could probably squeeze in a single sheet in there. But it won't lay flat, you'll have to leave the tailgate open, and you won't be able to stack in multiple sheets.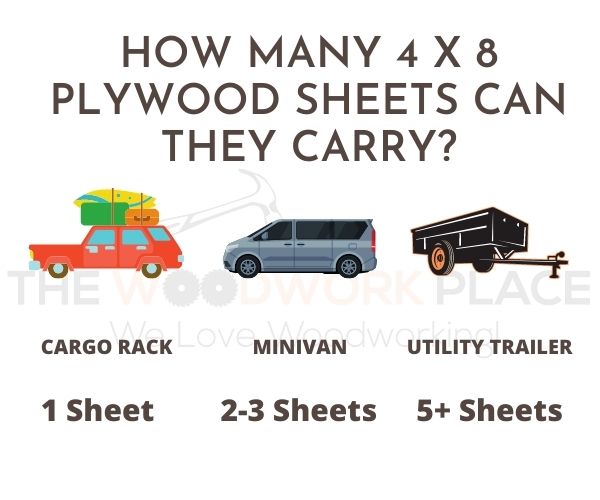 Will A 4×8 Sheet Of Plywood Fit In A Minivan?
If you have a decent sized minivan, then you can fit a sheet or two into it. But, this is bearing in mind that the average minivan is around 5 foot 8 inches wide and 14 feet 5 inches in length.
So, vehicles such as the Chrysler Grand Minivan and the Dodge Grand Caravan, will have the room to fit a single sheet of 4×8 plywood.
Related Post: What Is The Best Type Of Plywood For A Van Floor? (Solved!)
Cars – Can Carry Multiple Sheets In A Trailer
When it comes to transporting plywood with a car, most people opt for 'inside-the-car' methods.
Now, this usually involves all sorts of crazy and dangerous ways of getting that ply to fit. For example, way too many people try to transport plywood with their tailgate open.
But, the safest way to transport 4×8 is to simply use an 'outside-the-car' solution.
Can You Fit A Sheet Of Plywood In A Ford Escape? If you tried to secure the plywood in diagonally, then maybe. However, it is safer and simpler to use a trailer to haul that plywood home.
How Do You Transport 4 x 8 Plywood In A Car?
Fitting a 4×8 sheet into anything smaller than a truck is going to be very difficult.
So, instead, you will need to tow that plywood behind your car. Or, alternatively, stack it up on a cargo rack.
TOW BEHIND THE CAR – Use A Utility Trailer
A utility trailer – ideally one that can fold up for easy storage – is great for this.
A utility trailer is a non-motorized vehicle that you can attach to your car. It will do all of the heavy hauling when it comes to carrying multiple sheets of plywood (saving your cars axles).
Think of them as being kind of like a detachable truck bed for your car.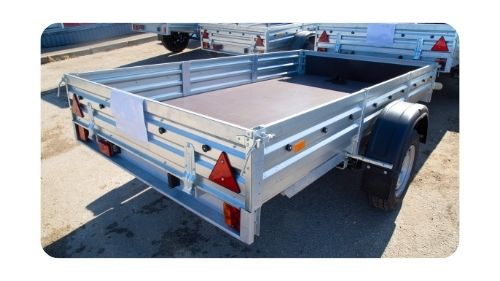 Trailer Size – Bigger Is Better
You'll want a trailer that outsizes that plywood sheet. So get something with a decent deck size; such as a 6×10 or a 5×8 trailer.
Trailer Capacity – Carrying Heavy Loads
It should also be capable of carrying heavy lumber, as plywood can really stack up the weight.
A sheet of 4×8 plywood, (around a 1/2 inch thick), weighs about 48 pounds. And even plywood that is a mere 1/4 inches thick can weigh in at 22 pounds a sheet.
So look for trailers that have a robust axle capacity. An axle that can handle 2000 lbs is OK, but over 3,000 lbs capacity is much better.
Trailer Brakes – Emergency Stopping Power
Last, but not least, you need a trailer that can break as quickly as your car does.
So be sure that your trailer has breaks on all of its wheels – not all utility trailers are required to have them as standard.
Trailer Prices – Buy Or Rent
Now, trailers aren't cheap. Don't get me wrong, they are a lot cheaper than buying a new minivan or truck. However, a decent trailer will set you back somewhere in the region of $600 to $2000 brand new.
Alternatively, instead of buying, you can rent a trailer. Places such as Uhaul and Home Depot offer trailer rental for as little as $40 a day.
Click here to check out the latest trailer rental prices, (at your nearest Home Depot center), over at HomeDepot.com
Will A Honda CR-V Fit 4×8 Plywood? No. If you have a Honda CR-V then you won't be able to fit a sheet of plywood inside this vehicle.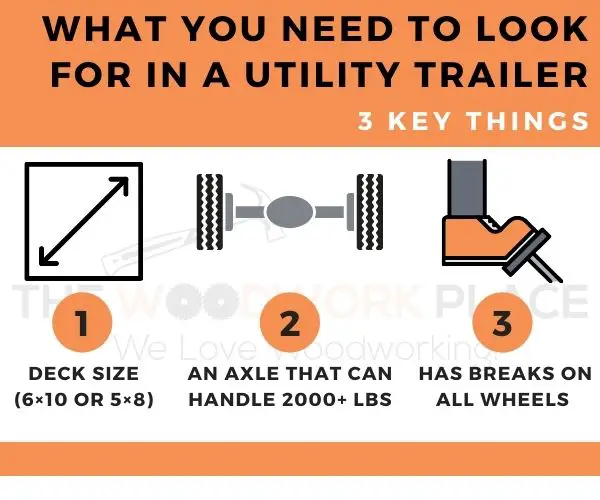 RACK 'EM UP OVERHEAD – Using A Cargo Rack
A cargo rack is a simple set of strong durable metal bars affixed to the roof of your vehicle.
You can then use it to carry luggage, bikes, furniture… and possibly even plywood sheets.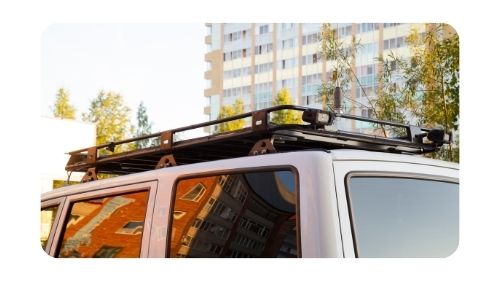 But, its worth repeating that, a Utility Trailer is still by far the best option for transporting plywood with a car.
Cargo Rack Prices
Cargo racks are relatively inexpensive. These car accessories can cost less than $100. And even top of the range setups don't go for much more than $600.
One of the most affordable cargo racks on the market is Maxxhauls Steel Roof Rack. It's strong enough to carry everything from cargo bags, to furniture, to plywood sheets.
It can handle a loads of up to 150lbs (which is the equivalent of about 3 sheets of 4 x 8 plywood).
To get the latest prices for the Maxxhaul Steel Roof Rack, pop on over to Amazon to learn more.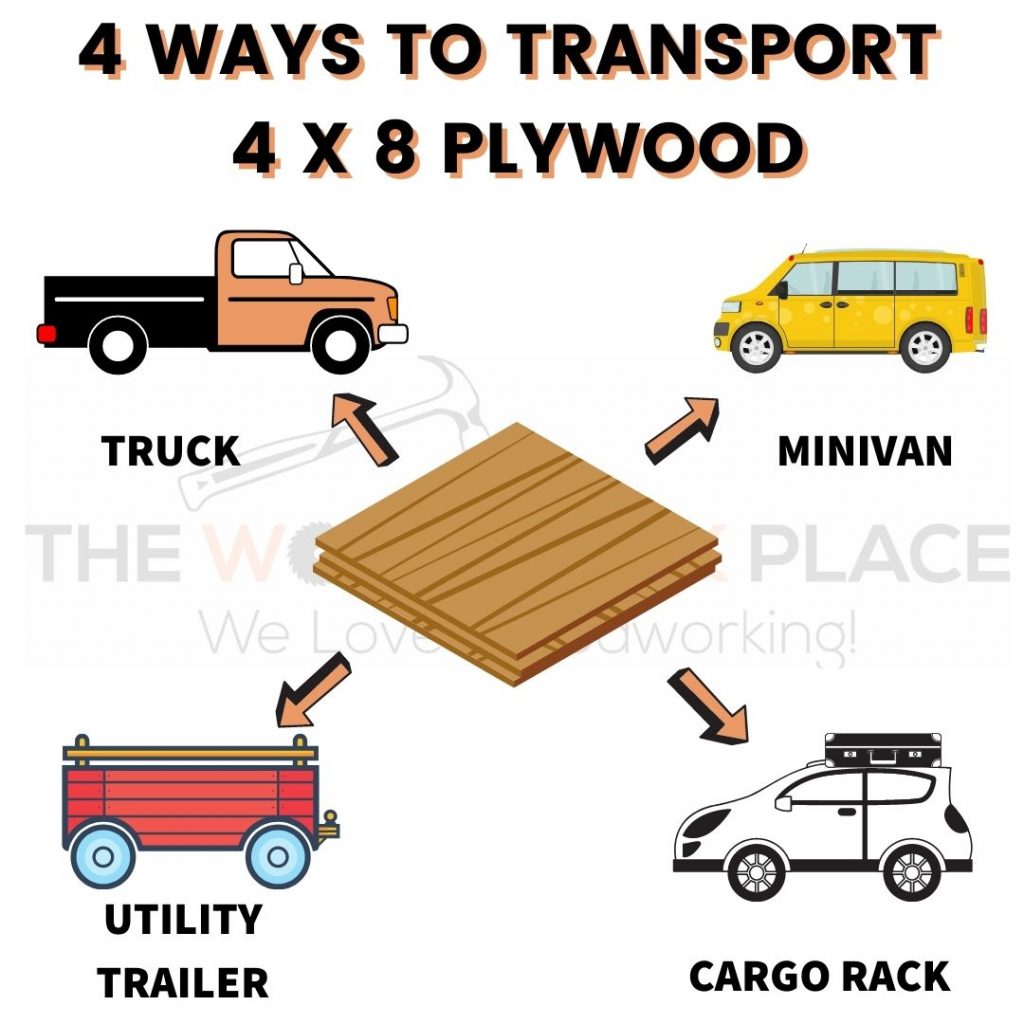 Cargo Racks & Fuel Consumption
A roof rack is going to make your car a bigger target whenever the wind blows. In other words your car's wind resistance is going to increase, meaning that you car will have to burn more fuel just to keep moving.
So a cargo rack generally increases your cars fuel consumption. So it should only be used as and when needed (and not left permanently on your vehicle.
Can A Toyota Highlander Carry 4×8 Plywood? Plywood won't fit into a Toyota Highlander – either flat nor on it's side.
Final Thoughts
If you want to ferry plywood back to your workshop, then you need to rent or buy a trailer.
Trailers are pricey, especially if you only plan on making rare one-off plywood purchases. So, for less than $50 a day, you are better off simply renting a trailer big enough to fit 4×8 plywood.
References